The Chiefs and Bills make their regular playoff appearance, the Jets and Jags… don't, and Big Ben (barely) gets one final playoff ride. All that and much more in our AFC Year in Review. (Click here for the NFC version.)
Baltimore Ravens (8-9, 4th place AFC North)
MVP: TE Mark Andrews (107 catches/1,361 yards/9 TDs.) It didn't matter who was quarterbacking the team. Andrews set Ravens' single-season records for both receptions and yardage.
High point: Justin Tucker's NFL-record 66-yard field goal bouncing in off the crossbar to beat the hapless Lions.
Low point: Ending the season on a 6-game losing streak, culminating in a week 18 OT loss to the Steelers after leading most of the way. Big Ben makes the playoffs for one final ride. The Ravens do not.
Lasting image: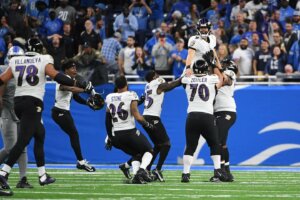 Buffalo Bills (11-6, 1st place AFC East)
MVP: Josh Allen. If it wasn't his arm, it was his legs. 36 passing TDs and just 15 picks, plus another 6 TDs on the ground.
High point: Avenging their 14-10 home loss to the Patriots by winning 33-21 in Foxborough to retake the AFC East lead for good.
Low point: Inexplicably losing 9-6 to the (then) Urban Meyer-led Jaguars in Week 9.  If anyone has any suggestions on how this actually happened, please let us know.
Lasting image: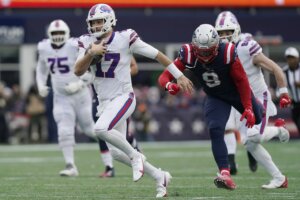 Cincinnati Bengals (10-7, 1st place AFC North)
MVP: Joe Burrow.  No sophomore slump here. Pro Football Focus' highest graded quarterback for the year, edging out Brady and Herbert. He took a huge leap forward this year with a big assist from former LSU teammate Ja'Marr Chase, who was also sensational.
High point: Posting a whopping 913 passing yards in Weeks 16-17 against the Ravens and Chiefs to lock down their first division title since 2015.
Low point: Stumbling badly after their first win over the Ravens, by losing to the lowly Jets and then getting blown out 41-16 against the Browns.
Lasting Image: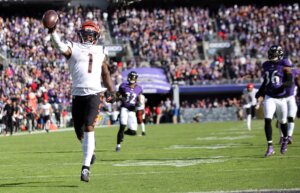 Cleveland Browns (8-9, 3rd place AFC North)
MVP: Myles Garrett, finishing with 16 sacks on the season.
High point: The Browns sacked the Bears QB Justin Fields 9 times in Week 3. Myles Garrett had 4.5 of them, to set a Cleveland record.
Low point: There are many, but we'll go with franchise QB Baker Mayfield hurting his left shoulder early in the year and while he played through it, he never was the same.
Lasting Image:
Denver Broncos (7-10, 4th place AFC West)
MVP: Safety Justin Simmons lived up to his big contract, with 80 tackles, 60 solo, 5 picks, and 1.5 sacks.
High point: A convincing 28-13 Week 12 win over the rival Chargers to move to 6-5 and keep their playoff hopes alive.
Low point: The surprise blockbuster trade of Von Miller to the Rams in exchange for 2 second-day draft picks in 2022. It marks an end of an era in Denver.
Lasting Image:
Houston Texans (4-13, 3rd place AFC South)
MVP: Tough one, but we're going with QB Davis Mills. He helped end the season on a high note with consecutive wins over the Jags and Chargers before being barely falling short in a furious comeback against the Titans.
High point: Playing spoiler by beating the high-powered Chargers 41-29 in Week 16.
Low point: Failing to trade Deshaun Watson at the deadline (or at any point before that, for that matter.)
Lasting image: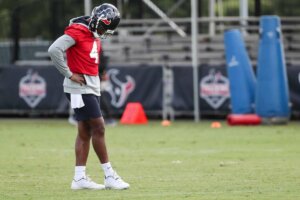 Indianapolis Colts (9-8, 2nd place AFC South)
MVP: RB Jonathan Taylor emerged as a beast, with 20 TDs and 2,171 total yards from scrimmage.
High point: Beating four different playoff teams including a blowout win in Buffalo behind a 5-TD performance by Taylor.
Low point: Allowing Trevor Lawrence to actually look like a No. 1 pick, and blowing a sure playoff spot in the process with a brutal 26-11 Week 18 loss in Jacksonville. 
Lasting Image: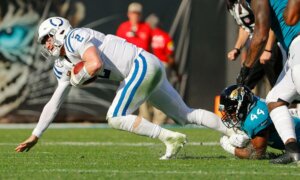 Jacksonville Jaguars (3-14, 4th place AFC South)
MVP: Owner Shad Kahn, for mercifully pulling the plug on Head Coach Urban Meyer.
High point: Beating Miami in London. Matthew Wright nails not one, but two 50+ yard field goals in the final four minutes for Meyer's first NFL win.
Low point: Already struggling after an 0-4 start, Meyer tries his hand at dancing instead. It does not go well. 
Lasting image: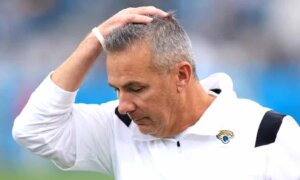 Kansas City Chiefs (12-5, 1st place AFC West)
MVP: Travis Kelce. He proved again that he's an elite tight end with 92 catches for 1125 yards and 9 TDs, plus another on the ground.
High point: Finally taking full control of the AFC West in a Week 15 OT thriller against the Chargers. Mahomes hits Kelce with 1:16 left to tie it, then the pair hook up again on a 34-yard TD to win it in the extra session. 
Low point: Getting blitzed – literally – by the Titans 27-3 in Week 7. The Chiefs fell to 3-4 and the season looked like it could spiral in the wrong direction.
Lasting image: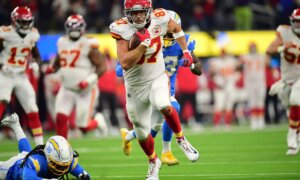 Las Vegas Raiders (10-7, 2nd place AFC West)
MVP: Derek Carr. As Derek Carr goes, so do the Raiders. He finishes the year completing 68% of his passes for 4800 yards and 23 TDs.
High point: Daniel Carlson's game-winning 47-yard field goal in Week 18 to send the Raiders (and Steelers) into the playoffs.
Low point: At the time we all thought it'd be John Gruden resigning over a whole bunch of homophobic and misogynistic emails. But just five days later, second-year wideout Henry Ruggs III did something much worse. 
Lasting image: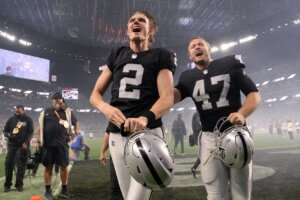 Los Angeles Chargers (9-8, 3rd Place AFC West)
MVP: Justin Herbert shows why he's a big gun in the league, throwing for 38 TDs and over 5,000 yards.
High point: The performance by Justin Herbert in the last nine minutes of regulation in the Week 18 finale in Vegas was just incredible. Herbert converted on five consecutive 4th & long plays to keep the Chargers alive. 
Low point: Everything that happened in the last 80 seconds of that same game. Brandon Staley has (deservedly) taken a lot of heat for his timeout call, but the bigger problem was the Chargers' atrocious run defense yielding 17 yards over the last two plays to allow the Raiders into field goal range and deprive us all of one of the tie-and-in scenario we were all secretly hoping for. 
Lasting image: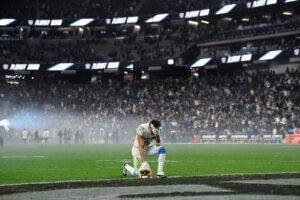 Miami Dolphins (9-8, 3rd place AFC East)
MVP: Jalen Waddle shows what he's made of. Finishes with 104 catches, 1015 receiving yards and 6 TDs despite a struggling offense.
High point: Finishing 8-1 to end the season when everyone thought they were done.
Low point: Firing Head Coach Brian Flores after an 8-1 finish to the season. How could this happen?
Lasting image: The greatest touchdown that didn't count by ineligible lineman Robert Hunt.
New England Patriots (10-7, 2nd place AFC East)
MVP: Mac Jones. Clearly the superior rookie QB of the 2021 NFL draft so far. completing 67% of his passes.
High point: Their old-school 14-10 Week 13 win in Buffalo, featuring just three Mac Jones pass attempts. 
Low point: Losing a 35-29 OT thriller to Dallas in Week 6 to drop to 2-4.
Lasting image: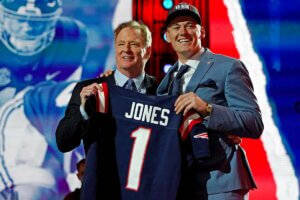 New York Jets (4-11, 4th place AFC East)
MVP: Rookie linebacker C.J. Mosely (155 combined tackles, 12.5 tackles for a loss and 14 tackles on 3rd and 4th down that prevented conversions.) 
High point: The White Lotus comes out of nowhere to throw for 405 yards and 3 TDs in a thrilling 34-31 win over Cincy.
Low point: Blowing one last chance to beat Tom Brady in Week 17, first by accidentally calling a 2-yard QB sneak and then by allowing Brady to methodically march down the field despite a lack of timeouts or established weapons.
Lasting image: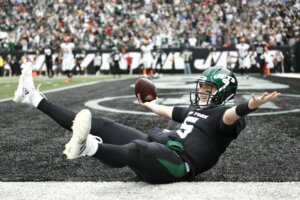 Pittsburgh Steelers (9-7-1, 2nd place AFC North)
MVP: TJ Watt is a beast. He ties Michael Strahan's NFL single-season sack record at 22.5 sacks, albeit in 17 games.
High point: A thrilling Week 18 OT victory in Baltimore, which turned out to be just enough to earn Big Ben one last playoff run.
Low point: Becoming the first team to fail to beat the Lions wasn't a great look, although salvaging a tie ended up being very important later on (plus ties are just cool.)
Lasting image: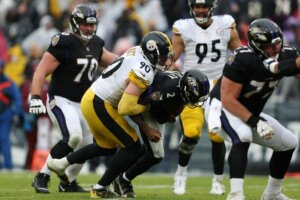 Tennessee Titans (12-5, 1st place AFC South)
MVP: Derrick Henry, who finished the season 9th in rushing yards despite playing zero football games after Halloween. Let that sink in.
High point: Their 34-31 Week 6 win over the Bills, featuring three Derrick Henry TDs and two late stops inside their own 5-yard-line. 
Low point: The Titans kept the magic going for a while despite losing Henry, but the wheels came off in a 22-13 Week 11 home loss to the lowly Texans.
Lasting image: