The Chiefs are all fixed, Russell Wilson isn't, and don't call it a Camback- he's been here for years. All that and much more from Week 10…
MIA 22 – BAL 10
After making a 46-yarder on the Ravens' opening drive, Justin Tucker misses just his second kick of the entire season (by maybe an inch) apparently causing the entire Baltimore offense to fall into a befuddled stupor, as they amass only 61 yards over the 2nd and 3rd quarters. Despite the lack of offense Baltimore stays within a single score most of the way, thanks in part to the officiating crew (correctly) calling back the best right guard screen pass of all time because, well, right guards aren't allowed to catch passes.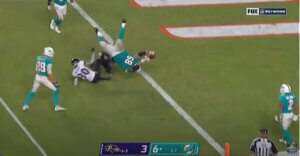 Down 9-3 early in the 4th the Ravens finally start moving the ball, but it all falls apart when Xavien Howard comes up with an incredible individual effort to give Miami a two-score lead. Baltimore eventually answers with a late Mark Andrews TD, but the Dolphins put the game away when the Ravens make the Football 101 mistake of failing to follow the motion man across the field. 
BUF 45 – NYJ 17
Alas, much like the show itself, our time with The White Lotus is likely over for now. The Bills pick off Mike White 4 times (none worse than this doozy.) After scoring just 6 points in Jacksonville, Josh Allen and the Bills put up 45 points against the Jets, who have now yielded 185 points over the last 4 weeks and haven't given up fewer than 24 since Week 1. It's just a mismatch indeed, Jay. 
WAS 29 – TB 19
Washington returns from their bye week about a quarter earlier than Tampa does, scoring on each of their first 3 possessions with two of those directly following Tom Brady interceptions to take an early 13-0 lead. The Bucs play decently enough from that point and get back to within a single score a couple of times in the 2nd half. But after leaving Mike Evans wide open on this TD, Washington's defense gets to take most of the rest of the afternoon off as Taylor Heinicke leads an impressive 10+ minute drive culminating in this 4th down Antonio Gibson TD to seal the upset. 
DAL 43 – ATL 3
Working with a 7-3 lead after one, the Cowboys go completely crazy in the 2nd quarter scoring more points (29) than the Dolphins, Bears, or Jaguars have in any full game this entire season. This perfectly lofted throw from Dak Prescott to Ceedee Lamb makes the margin 28-3, and the Falcons' least favorite score yields yet another bad memory as this game quickly turns into a laugher. 
TEN 23 – NO 21
In a battle of injury-riddled contenders, the Titans race out to a 20-6 lead behind a little trickery late in the first half and a special teams fumble to start the second. The Saints cut that lead to 23-21 late on this Marquez Callaway TD but have to attempt the game-tying 2-point conversion from the 7 after a false start penalty and Trevor Seimian can't quite connect with Mark Ingram. The Titans have now won 6 straight despite both losing Derrick Henry and having been outgained in 4 of those 6 wins, including this one.
IND 23 – JAX 17
The Colts race out to an early 17-0 lead behind a blocked punt and Jonathan Taylor just bullying his way into the endzone. Jamal Agnew answers with a 66-yard scamper and the Jags eventually cut the lead to 3, but the Colts force a late Trevor Lawrence fumble to close things out and climb all the way back to .500 after their 0-3 start.
DET 16 – PIT 16
TIE!!!!!!!!!!! (And you're damn right we're taking this opportunity to list Detroit first.) Jared Goff doesn't do much (14/25 for just 114 yards) but D'Andre Swift rushes for 130 yards and Godwin Igwebuike deftly mixes speeds on this 42-yard TD to give the Lions their largest 2nd half lead of the season at 16-10. Of course being the Lions they miss the extra point which turns out to matter when the Steelers tie the game up on a pair of field goals. Pittsburgh looks poised to grab a share of first place during most of this Diontae Johnson catch and run until Mark Gilbert strips the ball away. For the third time this season, the Lions have an opportunity to win on a late field goal attempt, and for the third time that kick does not go their way. But a second Pittsburgh OT fumble comes just in time to end Detroit's 12-game losing streak and give us our first tie of the season.
NE 45 – CLE 7
D'Ernest Johnson (26 touches/157 yards) has another big game in Nick Chubb's and Kareem Hunt's absence, but his teammates combine for just 60 yards total as the Patriots absolutely annihilate the Browns in Foxborough. This Kyle Dugger pick sets up the first of two Rhamondre Stevenson TDs, Mac Jones posts a gaudy 142.1 QBR with nearly as many TDs (3) as incompletions (4), and Jakobi Meyers finally finds the endzone on his 135th career catch as the Pats win their fourth in a row. 
MIN 27 – LAC 20
Minnesota's defense limits Justin Herbert to a season-low 195 yards while Justin Jefferson has a monster game with 9 catches for 143 yards, none better than this one. The Chargers still manage to grab a 3rd quarter lead on this short-distance laser from Herbert to Austin Ekeler, but Minnesota retakes the lead for good on Tyler Conklin's second TD of the game on 4th & Goal and then seals the game late with another gutsy 4th down call and conversion. 
CAR 34 – ARI 10
The 8-1 Cardinals play without Kyler Murray, DeAndre Hopkins, and Chase Edmonds for the second straight week, but the sequel doesn't go nearly as well as the original had. The Panthers hold the Cards to just 169 total yards, shattering their previous season low of 304, and cruise to a 23-0 halftime lead behind a big day from Christian McCaffrey, who falls just 9 yards short of outgaining the Cardinals all by himself. But of course the big story in the desert is the Camback, as the prodigal son's first rushing and passing plays both result in touchdowns. The Panthers are now back at .500 and would make the playoffs (starting in Arizona) if they started today.
PHI 30 – DEN 13
A week after the Broncos ran all over the Cowboys, the Eagles flip that script rushing for over 200 yards; Jalen Hurts, Jordan Howard, Boston Scott and company are now averaging 209 rushing yards per game since Miles Sanders got hurt in Week 7. Devonta Smith supplements all that running with a pair of TDs and the Eagles take 20-10 leads into the locker room both on the scoreboard and in terms of Time of Possession. A Brandon McManus chip shot and Jalen Hurts' worst throw of the day give the Broncos a chance to tie things up late in the 3rd quarter, but that goes exactly as poorly for them as it possibly can, and they never really threaten again. A special shout out (and not the good kind) to Teddy Bridgewater for just standing off to the side while Darius Slay runs right by him.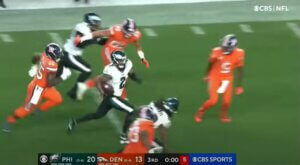 GB 17 – SEA 0
For the second straight week the Packers play a high-profile game against a former Super Bowl winning QB and…mostly bore the hell out of everyone watching. The Packers hold the ball for over 39 minutes but only have a 3-0 lead to show for it through 3 quarters thanks to a missed field goal and this red zone pick. But Russell Wilson can't do much of anything in his return (20-40/161 Yds/2 Int) and the Pack eventually break through in the 4th on a pair of A.J. Dillon TDs. The Seahawks join the Texans, Dolphins, and Jets as the only teams to be shut out this season. That's…not a good list. 
KC 41 – LV 14
Like a sputtering car that just needed an oil change, the Chiefs are suddenly all fixed and back in first place in the AFC West. Their much-maligned defense has quietly given up just 78 points over the last 5 games after yielding more than double that amount (163) over their first 5 games. And on the offensive side of the ball, Patrick Mahomes goes back to his old routine of mixing in weird and impressive throws (left handed this time!) with oodles of touchdowns (5 on the night, highlighted by this spectacular Darrel Williams catch.) The Raiders cut the lead to 17-14 on this Bryan Edwards TD, but the next 5 possessions go TD/Fumble/TD/Int/TD as the Chiefs win this one going away. 
SF 31 – LAR 10
Odell Beckham, who as a refresher has played in exactly one playoff game in his 8-year career, immediately makes his presence known by quitting on his first deep route, resulting in this Jimmie Ward interception. The 49ers quickly set the tone from there with an 11-minute, 20-play drive culminating in this George Kittle TD (and a bunch of well-deserved praise from the Manning brothers.) Six plays later Jimmie Ward snags another loose ball, this time off of Tyler Higbee's gloves, and takes it to the house for a quick 14-0 lead. The Rams leave 3 points on the board when they call an oddly shallow fake field goal route on 4th & 8 and don't get back to the Red Zone again until the game is out of reach.