(Photo by Adam Bettcher/Getty Images)
Jonathan Taylor and Austin Ekeler spend all day in the endzone, the 49ers play keepaway for nearly an entire quarter, and it's beginning to look a lot like 2001 up in New England. All that and much more from Week 11:
NE 25 – ATL 0
The Patriots, Falcons, and, fittingly, yet another 25-point margin remind us all how quickly fortunes can change in the NFL. On the morning of 11/13, the Falcons were in a playoff spot and the Pats were on the outside looking in. Just a few short days later the Patriots have returned to their customary perch atop the AFC East standings while the Falcons' playoff prospects have plummeted thanks to two losses in five days by a combined 68-3 margin. Mac Jones completes over 80% of his passes for the second straight week, granted it helps when your receivers are this wide open. Atlanta, playing without their swiss-army knife, Cordarrelle Patterson, only musters 165 total yards, but they do accomplish the rare feat of having three different passers (Matt Ryan, Feleipe Franks, and Josh Rosen) throw an interception.
PHI 40 – NO 29
The Eagles get Miles Sanders back and just keep running all over the place, putting up a season-high 242 yards against what had been the top rushing yardage defense in the NFL. Darius Slay scores for the second straight week as the Eagles race out to a 33-7 lead. Trevor Seimian mounts a late comeback, but one which falls well short when Jalen Hurts becomes just the second QB since 2012 to rush for 3 TDs with this multiple ankle-breaker.
MIA 24 – NYJ 17
Teams who currently have a 3+ game winning streak: The Pats, Chiefs, Colts, and, yes, the Miami Dolphins. The Dolphins still haven't scored more than 28 points in a game (even against the Jets' sieve of a defense) but for the third straight week they manage to do enough to win. Joe Flacco plays about as well as Jets fans could reasonably ask with nearly 300 yards in the air and a pair of TD passes, including this perfect strike to tie the game late in the 3rd quarter. But the Dolphins answer right back with an 18-play, 77-yard drive which culminates in this game-winning Myles Gaskin TD and then put the game away with a chip shot field goal right after the two-minute warning. 
WAS 27 – CAR 21
Well somebody was certainly happy to be back home. Cam starts his return in style with a 75-yard drive culminating in this DJ Moore TD (which should have been called back because center Chris Elflein was clearly too far downfield- perhaps the officiating crew got too wrapped up in the Camback.) Cam posts a 120.5 QBR on the day, just the third time since 2017 he's been that efficient. But Taylor Heinicke has an even bigger day (141.3 QBR) to keep pace and the game is ultimately decided by 4th down conversion rates- Washington goes 2-for-2 including this critical mad scramble midway through the 4th, while their Chase Young-less defense stops the Panthers not once but twice after that to hold on for the 27-21 upset. 
IND 41 – BUF 15 (Scorigami!)
Sudden MVP candidate Jonathan Taylor visits the endzone on the Colts' opening drive and enjoys his stay so much he just keeps going back, becoming just the second player to score 5 TDs in a game since 2013. Carson Wentz doesn't do much of anything in the air (11-20/106 yards/1 TD (to Taylor, of course)) but he really doesn't need to as the Bills, who still lead the NFL in both yards allowed and points allowed, just have no answer for Taylor. They also pour gasoline on that fire with a pair of missed field goals and 4 turnovers (none worse than this one) and now find themselves looking up at the Patriots in the standings ahead of a pair of December meetings. 
CLE 13 – DET 10
Two teams who run the ball much better than they pass it continue to do exactly that. Nick Chubb (146) and D'Andre Swift (134) combine for more total yardage than their respective QBs Baker Mayfield (176) and …checks notes… someone named Tim Boyle (77; amazingly the second straight week the Lions have managed exactly 77 passing yards. Also, yikes.) Jarvis Landry makes a pretty great read off a direct snap for the Browns' first TD, and Chubb adds a short TD catch just before halftime. Swift gets the Lions back in the game with a pair of nifty cutbacks on this 57-yard TD run, and they add a field goal off of Mayfield's second pick of the day. But with the game on the line Swift only gets one touch on a 3rd and 14, and Detroit never gets the ball back as Chubb and D'Ernest Johnson run out the clock with 8 straight rushes for 44 yards when everyone in the building knew they were running. 
SF 30 – JAX 10
After receiving the opening kickoff the 49ers casually proceed to go on the longest drive of the 21st century, clocking in at a whopping 13:05. For all that time they only walk with a field goal, but Jacksonville only manages 5 plays from scrimmage over their first two (eventual) possessions, including a fumble and a punt. By the time Jimmy Garoppolo finds Brandon Aiyuk in the back of the endzone the 49ers lead by 17 points (17-0) and 18 minutes of possession (19:52-1:43) and the Jaguars never come close to threatening either of those margins the rest of the way. 
HOU 22 – TEN 13
Ironically after being outgained 4 times during their 6-game winning streak the Titans dominate the yardage battle in this one 420-190. But it turns out that if you spot them a 5-0 turnover advantage, even the Texans can find their way into the win column. This Kamu Grugier-Hill pick on the last play of the 1st quarter gives Houston at least a 6-point swing (Kudos to Ryan Tannehill for going all out Tecmo Bowl-style to try to track down Grugier-Hill after the pick.)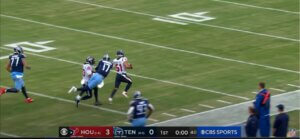 An intentional grounding on the last play of the 2nd quarter ends another deep Titans' drive, and a muffed punt sets up this Tyrod Taylor scramble to give the Texans a shocking 19-0 lead. Things get much closer from there and the Titans eventually get a shot at taking the lead in the game's final minutes but that falls apart when Tannehill makes this off-balance throw directly to former Titan Desmond King.
MIN 34 – GB 31
The Vikings' roller-coaster of a season is starting to hit full stride. Granted that probably just means wilder ups and downs rather than fewer of them. Minnesota races out to a 16-3 lead behind a huge first quarter by Justin Jefferson (104 yards, including this near-TD.) The Vikings eventually blow that lead- the fifth time they've blown a double-digit lead in six tries so far this season- as Aaron Rodgers finds Davonte Adams wide open midway through the 4th quarter to pull the Pack ahead. Justin Jefferson puts Minnesota back on top with his second TD of the afternoon, and because the Vikings are apparently allergic to leads, that one only lasts just one play. But after having an interception (correctly) overturned, and nearly throwing another one, Kirk Cousins does enough to get the Vikings into field goal range for Greg Joseph's 2nd walkoff of the season.
BAL 16 – CHI 13
The Bears get a golden opportunity to climb back into the NFC playoff race with two games in five days against a pair of unheralded backups (Tyler Huntley and the aforementioned Tim Boyle) and celebrate by … failing to score for the entire first half. After Justin Fields exits the game early in the 3rd quarter with a rib injury, Darnell Mooney finally gets the Bears on the board by using a turbo button he should clearly be using more often. And that's it for the Bears until the final 2 minutes when Baltimore inexplicably sends the house on 4th and 11 and Marquise Goodwin sneaks behind it for a wide-open go-ahead TD. But the Bears immediately return the favor leaving Sammy Watkins all alone deep to set up Devonta Freeman's game-winning run, as the vultures start closing in on Matt Nagy.
CIN 32 – LV 13
The Raiders are officially in freefall mode, having dropped from 2nd in the AFC to 12th in just three short weeks. Both offenses struggle to move the ball, but the Bengals at least hold onto it for a lot longer, racking up 37:20 of possession behind 30 Joe Mixon rushes. Evan McPherson, who last appeared in this column celebrating his own missed field goal, atones by nailing three 50-yarders to stake the Bengals to a 16-6 lead early in the 4th. David Carr cuts that lead to 3 on this beautiful lob pass to Foster Moreau, but Joe Burrow and Ja'Marr Chase answer right back, and just over a minute later Mixon seals the game with this 20-yard TD run.
ARI 23 – SEA 13
In the continued absence of Kyler Murray, DeAndre Hopkins, and Chase Edmonds, Zach Ertz comes to the rescue with his first 8-catch day (including both of Arizona's first half touchdowns) in nearly 2 full seasons. Colt McCoy posts just the third 300-yard passing game of his 12-year career, connecting with Ertz and particularly Rondale Moore, who becomes just the second wide receiver in NFL history to catch more than 10 passes for fewer than 65 yards (joining Jaylen Waddle from earlier this year, oddly enough) early and often. Russell Wilson completes three deep balls to Tyler Lockett, the last of which helps get the Seahawks back within 3. But James Conner puts the game away with his 12th Rushing TD of the season– Conner is very quietly just one behind Jonathan Taylor for the NFL lead- and the Cardinals head into their bye week as the NFL's only 2-loss team, and with the cavalry set to return when they return to action on 12/5 in Chicago.
KC 19 – DAL 9 
The Chiefs jump out to a 16-3 lead, scoring on each of their first three possessions starting with this Travis Kelce direct snap and ending with Clyde Edwards-Helaire finding the endzone in his first action since Week 5 (and immediately getting a taunting penalty for pointing because 2021.) Those turn out to be the only two touchdowns of the game as both teams struggle to both move and hold onto the ball, combining for 5 turnovers and a missed field goal. The Chiefs head into their bye week on a roll, while the Cowboys have now dropped two of three, but have a cushy Thanksgiving Day matchup with the reeling Raiders to look forward to.
LAC 41 – PIT 37
For the sixth straight week, a Steelers game is decided by a single score (or less.) Justin Herbert gets his mojo back with 382 yards in the air and another 90 on the ground en route to a comfortable 27-10 lead. A blocked punt gives Pittsburgh some life, but Austin Ekeler answers right back with his 4th TD of the game. Pittsburgh answers that answer though, and then everything starts going horribly wrong for the home(ish) team- first this freak interception on an incredibly heads-up play by Cam Sutton, then this Pat Freiermuth screen to tie the game, then a 4th down stuff on their own 35, and finally a Chris Boswell go-ahead field goal, giving the Steelers 27 points for the quarter. But all that pain gets washed away quickly when Pittsburgh's secondary completely botches their coverage on this vanilla Mike Williams fly pattern, and the Chargers walk away with a highly entertaining and much-needed win. 
TB 30 – NYG 10
The Giants hang with the Bucs for the game's first 21 minutes thanks largely to this Mike Evans gift (a classic not-the-quarterback's-fault interception) and a hell of a nice catch by Tackle Andrew Thomas. The Bucs answer back when Ronald Jones sneaks inside the pylon and they never look back. We'll let the Manning brothers' befuddlement at the Giants' 3rd and final turnover take it from here.