The Lions finally win! Minshew Mania is alive and well! Another Ravens-Steelers classic! And….we didn't write about any of that since we had our bye this week. But since we'd never leave our readers empty-handed on a Tuesday, here's our most popular writeup from each of this season's first 12 weeks. Enjoy, and see you in Week 14!
KC 33 – CLE 29 (Week 1)
17 years and counting since the Browns won an opener. They were somehow both still ahead and had absolutely no chance after this.
DAL 20 – LAC 17 (Week 2)
Through 59 minutes these teams put up over 800 yards, punted just once, and somehow only had a 17-17 tie to show for it. The chaotic, horrendously coached last 30 seconds are creatively and accurately captured here.  
BAL 19 – DET 17 (Week 3)
Justin Tucker, Justin Tucker, Justin Tucker Justin Tucker. Never happens without this 4th & 19 throw by Lamar though. 
WAS 34 – ATL 30 (Week 4)
Cordarrelle Patterson, who infamously threw out a WTF on Nickelodeon last year, has the game of his life against the WFT (12 touches/116 yards/3 TDs.) Granted it helps when no one guards you. But since the Falcons can't have nice things, it all falls apart late in the 4th quarter, where they've now been outscored 50-17. 
GB 25 – CIN 22 (Week 5)
Hey guys, the wind is blowing pretty strong left to right, so you may want to aim off-center to account for that….never mind, with enough tries I'm sure you guys will just figure it out on your own. Oh, and Evan- maybe don't celebrate until those dudes wearing the black and white shirts stick their hands up?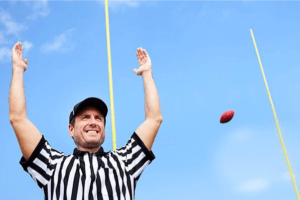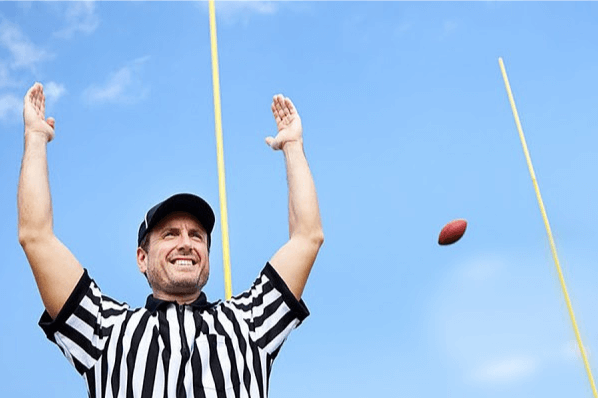 TEN 34 – BUF 31 (Week 6)
Week 6 saved its best for last. The Bills make two early Red Zone trips and hold the Titans to one first down in their first 3 drives, but suddenly find themselves behind when both of those Red Zone trips end in Field Goals and the Titans' 4th drive starts and ends like this, the first of 7 lead changes on the night. The Titans' passing game struggles despite getting A.J. Brown and Julio Jones back- the latter only briefly, but he did give us this crazy catch before re-injuring his hamstring. Derrick Henry's 3rd rushing TD of the night gives the Titans a late 34-31 lead which they almost blow immediately. But thanks to a holding penalty on that return, and a pair of clutch stops of Josh Allen on both 3rd and 4th down in the final minute, the Titans hold on for the 34-31 victory. 
NE 54 – NYJ 13 (Week 7)
Hey remember that time the Jets beat the Titans? Well, the Jets certainly don't seem to. The Patriots score on 9 of 10 drives and Mac Jones posts the first 300 yard game of his young career despite sharing passing duties and not having to finish the game. Zach Wilson also doesn't finish the game, but for far less positive reasons, and now it's Flacco time once again at the Meadowlands after he literally defined mediocrity the first time around:
NYJ 34 – CIN 31 (Week 8)
If we told you in advance that Joe Burrow was going to throw for 3 TDs, the AFC-leading Bengals (fresh off a 24-point win in Baltimore) would be +2 in Turnover differential, and the 1-5 Jets (fresh off a 41-point loss in Foxboro) were going to give Mike White (fresh off his fine work on The White Lotus; okay, not really) his first career start, you would have just started counting your CIN -10.5 winnings. But what you didn't see coming, because no one saw this coming, was (the real) Mike White throwing for over 400 yards. And the Jets' best passing play of the game didn't even count! The Bengals' lone turnover comes at the worst possible time. And two plays later the Jets take the lead for good when former Bengal Tyler Kroft gets so wide open that even the other Mike White would have been able to find him for the game-winning TD. 
KC 13 – GB 7 (Week 9)
The two-time defending AFC champs and the team with the best record in the entire NFL meet in a rematch of Super Bowl I and…underwhelm the hell out of everyone. The Chiefs only manage 237 yards of total offense, with their biggest gain of the day coming on this punt. Mason Crosby misses a 40-yard field goal and has a 37-yarder blocked, as the Packers fail to score until the game's last 5 minutes when Allan Lazard ducks under Daniel Sorensen to find the promised land. But Green Bay never gets the ball back after Patrick Mahomes finally makes a clutch third down throw and the Chiefs are now back within a half game of first place in the uber-tight AFC West, while Cheesehead nation can only muster their best ivermectin face.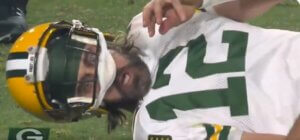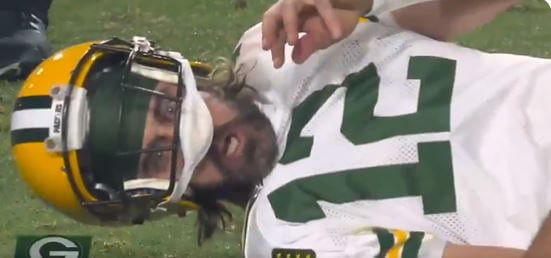 DET 16 – PIT 16 (Week 10)
TIE!!!!!!!!!!! (And you're damn right we're taking this opportunity to list Detroit first.) Jared Goff doesn't do much (14/25 for just 114 yards) but D'Andre Swift rushes for 130 yards and Godwin Igwebuike deftly mixes speeds on this 42-yard TD to give the Lions their largest 2nd half lead of the season at 16-10. Of course being the Lions they miss the extra point which turns out to matter when the Steelers tie the game up on a pair of field goals. Pittsburgh looks poised to grab a share of first place during most of this Diontae Johnson catch and run until Mark Gilbert strips the ball away. For the third time this season, the Lions have an opportunity to win on a late field goal attempt, and for the third time that kick does not go their way. But a second Pittsburgh OT fumble comes just in time to end Detroit's 12-game losing streak and give us our first tie of the season.
MIN 34 – GB 31 (Week 11)
The Vikings' roller-coaster of a season is starting to hit full stride. Granted that probably just means wilder ups and downs rather than fewer of them. Minnesota races out to a 16-3 lead behind a huge first quarter by Justin Jefferson (104 yards, including this near-TD.) The Vikings eventually blow that lead- the fifth time they've blown a double-digit lead in six tries so far this season- as Aaron Rodgers finds Davonte Adams wide open midway through the 4th quarter to pull the Pack ahead. Justin Jefferson puts Minnesota back on top with his second TD of the afternoon, and because the Vikings are apparently allergic to leads, that one only lasts just one play. But after having an interception (correctly) overturned, and nearly throwing another one, Kirk Cousins does enough to get the Vikings into field goal range for Greg Joseph's 2nd walkoff of the season.
TB 38 – IND 31 (Week 12)
The best inter conference matchup of the day lives up to every expectation. Carson Wentz hits the 300 yard mark for just the second time all season as the red-hot Colts race out to a 24-14 halftime lead highlighted by Ashton Dulin's first career TD. But the Bucs force a pair of 3rd quarter turnovers, including this gem of a downfield solo coverage interception by Antoine Winfield Jr. and convert both into TDs to retake the lead. Jonathan Taylor ties the game up late by overpowering Winfield at the goal line. But Leonard Fournette (4 TDs) breaks the hearts of everyone who had Colts +3 the home crowd by hitting the hole with steam and running for 28 yards when he only needed about 5 to put the game away.