Frank Reich beats Bill Belichick at his own game, the Ravens lose on a failed two-point conversion for the third straight week, and Tom Brady is shut out for the first time in 15 years. All that and much more from a wild Week 15:
KC 34 – LAC 28 (OT)
The Chargers get, and, in keeping with franchise tradition, blow a golden opportunity to reclaim first place in the AFC West, while the Chiefs, who started the season 3-4, can now wrap up the division as early as next weekend. Despite an early 10-0 deficit, LA hangs tough in this one behind a more balanced attack than usual, with 236 yards in the air and another 192 on the ground. The Chargers take a 14-13 lead into the 4th quarter, which is where the real fireworks begin. Uchenna Nwosu makes a spectacular interception to set up an Austin Ekeler TD, but the Chiefs answer right back thanks to the longest gain on a huge day by Travis Kelce (10 catches/191 yards/2 TDs/millions of satisfied fantasy owners.) The teams exchange a second pair of touchdowns before the Chiefs finally come up with a stop near midfield to send the game to overtime. Overtime lasts just a single possession when Kelce and Chargers cornerback Mike Davis conspire to convert an innocent-looking 5-yard pass into a game-winning 34-yard TD. 
IND 27 – NE 17
Bill Belichick gets a rare taste of his own medicine. Just 12 days after the Pats pulled off a 46/3 run-pass split against the Bills, Frank Reich executes a similar gameplan with 39 rushes and just 12 passes. Of course it helps when you have Jonathan Taylor, who runs 29 times for 170 yards and a TD and now leads the NFL in rushing yards by an absurd 424 yards. Taylor also contributes the lead block on the Colts' lone "passing" TD of the night, and the Colts double their early lead on E.J. Speed's second punt-block return TD of the season. Trailing 20-0 in the 4th, the Patriots nearly climb all the way back, cutting the lead to 3 on this Hunter Henry TD just before the 2-minute warning. But two plays later Taylor puts the game away by breaking free for a 67-yard touchdown. 
DAL 21 – NYG 6 
After dodging a bullet in Washington last week, the Cowboys get a much easier matchup against the Daniel Jones-less Giants at MetLife Stadium. Mike Glennon, who still has exactly one win as a starter since 2014, becomes just the 6th starter all season to post a sub-25 QBR, with a ghastly 13-24/99 yards/3 INT line. The Giants' defense does just enough to hang around in spite of that, with this Lorenzo Carter strip sack giving the home team a chance to get back to within a single score midway through the 4th quarter. But two plays later Glennon's last and worst pass of the day results in Trevon Diggs' league-leading 10th interception, and the Cowboys comfortably hold on for the 21-6 victory to reduce their magic number for clinching the NFC East to 1. 
HOU 30 – JAX 16
Of course the big story this week was off the field, with Urban Meyer becoming just the 2nd non-interim head coach in NFL history to fail to make it through a single season (joining Bobby Petrino who also lasted an unlucky 13 games, going 3-10 with the 2007 Falcons.) On the field the Texans run out to an early 11-point lead highlighted by this kickoff return by Tremon Smith (or, pending your perspective, lowlighted by the 6 Jaguar special teamers who failed to tackle the guy in the middle of this picture.)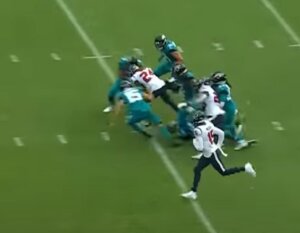 Jacksonville pulls back within seven a couple of times, but four straight 3-and-outs in the second half prevent them from getting any closer, and Brandin Cooks eventually seals the win by busting loose on this 3rd & 9 swing pass.  
 DET 30 – ARZ 12
On the plus side for the Jaguars (well, aside from being rid of Urban Meyer) they're now on the inside track for a second straight #1 overall pick thanks to an absolute stunner in the Motor City. The occasionally frisky Lions look downright dangerous against a suddenly reeling Cardinals team, racing out to a 17-0 halftime lead behind Jared Goff's best game of the year (21-26/216 yards/3 TDs.) The Cards start the second half with a long field goal drive and a forced fumble, but Detroit answers right back with this diving Amani Oruwariye interception and runback and never look back in posting their (checks notes) 2nd straight home win.
PIT 19 – TEN 13
The Titans apparently learned nothing about karma from last week's Chiefs-Raiders game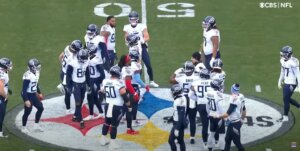 and allow the Steelers to pull out yet another tight game- none of their seven wins have been by more than one score- to stay in the playoff hunt. Both QBs post similarly uninspiring stat lines with Ryan Tannehill throwing 32 times for just 153 yards and Ben Roethlisberger throwing for just 148 as the Steelers only gain 168 total yards on the day. But Pittsburgh's defense comes up huge, winning the turnover battle 4-0 including takeaways on 3 straight 2nd half possessions- first this wild fumbleception, then a tip-drill interception and return, and finally T.J. Watt pouncing on a fumbled snap. All 3 interceptions only result in Chris Boswell field goals, giving the Titans one last chance, but they fall about a millimeter short (even with a generous spot) on 4th & 6 inside the red zone and the Steelers hold on for the 19-13 win. 
MIA 31 – NYJ 24
The Dolphins lost 26-11 in Buffalo on Halloween to drop to 1-7 and they still haven't lost since. The Jets hang tough with the Dolphins just as they had 4 weeks ago in New York, turning a pair of Tua interceptions- first a bad overthrow right into the waiting arms of Ashtyn Davis, and then a much worse pick-six on an unnecessarily risky 6-yard throw on 3rd & 14-  into 10 points. The Jets also somehow successfully execute one of the dumbest play designs in NFL history, suggesting that it might just be their day. But the Dolphins take their first lead of the game on a great route and better celebration by defensive end Christian Wilkins, and they recover from that pick-six with a 75-yard game-winning drive culminating in this slant TD by DeVante Parker to climb all the way back to 7-7.
BUF 31 – CAR 14
The reeling Bills (1-3 in their last 4 games) get the matchup they need with the more reeling Panthers (0-3 since giving Cam his old job back.) They also get a break in warmups when Panthers' kicker Zane Gonzalez injures his quad, ultimately leading to a pair of turnovers on downs which would have been field goal attempts but for the absence of a healthy kicker. A full-extension interception by Jeremey Chinn over Stefon Diggs finally helps get the kickerless Panthers on the scoreboard just before halftime, but a pair of Gabriel Davis second half TDs- one in lots of coverage, and one with no coverage at all– gives Buffalo all the points they need to snap their losing streak as they gear up for a rematch with the Patriots in Foxborough next week.
CIN 15 – DEN 10
The Bengals win a defensive battle in Denver to retake the lead in the AFC North. With the Broncos down 9-3 early in the 3rd quarter Teddy Bridgewater has to be carted off the field after a scary-looking head injury. Drew Lock leads the Broncos to a go-ahead touchdown on that same drive thanks mostly to 6'-4" Tim Patrick overpowering Trae Waynes on this jump ball. But the Bengals answer right back on this gorgeous play design where Tyler Boyd disappears among the Broncos' linebackers and emerges wide open behind them and then adds a nifty cutback post-catch to score what would prove to be the game-winning touchdown. Lock leads the Broncos right back down the field but Khalid Kareem literally takes the ball right out of his hand inside the Bengals 10 (after review Kareem was (correctly) ruled down by contact, negating his fumble later on that same play.) Denver never crosses midfield after that, and the Bengals hold on for a crucial road win. 
SF 31 – ATL 13
The 49ers fumble the opening kickoff but their defense comes up with a huge goal line stand to keep the game scoreless. After exchanging field goals the 49ers offense goes to work behind George Kittle and Deebo Samuel, who both finish just short of 100 total yards. Russell Gage keeps the Falcons in the game with this Randy Moss-esque TD grab (set up by one of the worst roughing the passer calls in NFL history,) but that would end up being Atlanta's only touchdown of the day. Matt Ryan literally drops the ball while being sacked by Nick Bosa early in the 3rd quarter leading to a Jeff Wilson Jr. TD, and the 49ers defense comes up with two more stops inside their own 10 to win this one going away 31-13. 
GB 31 – BAL 30
Tyler Huntley fills in admirably after Lamar Jackson is ruled out, accounting for nearly 300 total yards and all four Ravens TDs. Huntley hits tight end Mark Andrews early and often, Andrews falling just 11 yards short of his career high with a monstrous 10 catch/136 yard/2 TD day and the teams head to the locker room tied at 14. Green Bay finally takes control of this back-and-forth game early in the 4th quarter on a fingertip TD catch by Marquez Valdes-Scantling, but Huntley leads the Ravens right back with a pair of 4th quarter rushing TDs, the second of which appears to tie things up in the game's final minute… until John Harbaugh, who had been aggressive all game long despite Jackson's absence, keeps the offense out on the field, and for the 3rd straight week, Baltimore loses on a failed two-point conversion in the game's final two minutes. 
NO 9 – TB 0
Tom Brady is now 0-4 in the regular season as a Buc against the Saints and 21-5 against everyone else. Brady (26-48/214 yards/1 rage-against-the-tablet-inducing interception) struggles mightily while losing Mike Evans, Leonard Fournette, and Chris Godwin to injuries over the course of this one, with Godwin now known to be out for the season. Taysom Hill isn't really any better (13-27/154 yards passing plus another 33 on the ground) but at least stays turnover-free for the second straight week as the Saints pull even with the Vikings for the NFC's last playoff spot.
LV 16 – CLE 14
The first of three Covid-delayed games ends up being the tightest. Vegas takes a 10-0 halftime lead as the Nick Mullens-led Browns offense only has a missed 47-yard field goal (hold that thought) to show for their first half efforts.  Midway through the 3rd quarter Derek Carr fumbles near midfield, just a couple of plays after a successful fake punt, giving Cleveland some life. Nick Chubb scores from 4 yards out to get the Browns on the board, and later Mullens scrambles to find Harrison Bryant for a late 14-13 lead. But the Raiders answer right back with a 51-yard drive setting up Daniel Carson for a game-winning 48-yard field goal through a tough left-to-right wind. Twice. 
MIN 17 – CHI 9
Despite lining up against a decimated and deflated Bears' secondary, Kirk Cousins only throws for 87 yards. Cousins also throws one of the sillier looking interceptions you'll ever see. But he does find the end zone twice, with Ihmir Smith-Marsette's first career TD putting the Vikings up by 14. Chicago actually controls much of the play, nearly doubling Minnesota in total yardage (370-193.) But the Bears leave a ton of points on the board between this red zone fumble, a missed field goal, and 3 more turnovers on downs (rest assured Justin Fields is not actually dead,) and fail to close that 14-point gap until the game's final play. With the loss, the Bears become just the 5th NFL team eliminated from playoff contention. 
PHI 27 – WAS 17
Washington, forced to start Garrett Gilbert just four days after signing him off of the Patriots' practice squad, jumps out to a 10-0 lead aided by a pair of Jalen Hurts turnovers, one of which was definitely not his fault. Gilbert puts up a perfectly passable 20-31/194 yard/0 turnover performance to keep his team in the game well into the 4th quarter. But Philly's offense proves to be way too much, gaining more yards on the ground (238) than Washington's overall total (237.) Jalen Hurts scores on a pair of QB sneaks and this perfectly timed throw to Greg Ward Jr. ends the scoring and gets Philly back to .500 after a 2-5 start. 
LAR 20 – SEA 10
Cooper Kupp (9 catches/136 yards/2 TDs) puts up nearly as many yards as all of Russell Wilson's receivers combined (156.) A pair of passes which never made it to Kupp (first this awful interception and then a 4th down stop by Jordyn Brooks) keep Seattle in the game despite never really getting their offense going, and the Seahawks briefly take the lead on a DeeJay Dallas TD run. But the Rams answer right back with a pair of Cooper Kupp TDs, the first of which allows Kupp to surpass Isaac Bruce's single-season franchise reception record (119; Kupp is now at 122 with three games left to play,) and the second of which gives LA the lead for good, thanks in part to one of the worst non-penalty calls of the year. With the win and Sunday's stunning upset in Detroit, the Rams pull back even with the Cardinals at 10-4.