The Jets screw up their draft prospects again, Josh Allen wills the Bills back into first place, and Washington brings their benches to Dallas but leaves their football game at home. All that and much more from an emergency QB-filled Week 16: 
TEN 20 – SF 17
The Titans' offense, which had been sputtering ever since Derrick Henry went down (302 YPG without Henry vs. 377 YPG with Henry) suffers its worst half yet, recording just two first downs. The 49ers completely dominate both sides of the ball but only have a 10-0 halftime lead to show for it, thanks mostly to Janoris Jenkins stealing a touchdown away from George Kittle. After getting that awful half out of their system, Tennessee comes out of the locker room on fire, scoring on three straight possessions to grab a 17-10 lead. A.J. Brown, playing for the first time in four games, posts career highs in both targets (16) and catches (11) while accounting for 145 of Ryan Tannehill's 209 passing yards including the go-ahead TD early in the 4th quarter. The 49ers answer back with a late TD catch by aspiring punter Brandon Aiyuk. But a huge 23-yard scramble by Tannehill sets up Randy Bullock's game-winning 48-yard field goal, and the Titans are now just a single win away from clinching the AFC South.  
GB 24 – CLE 22
The Browns, who had been alternating wins and losses since Week 6, end that streak at the worst possible time. Nick Chubb gets Cleveland off to a great start by taking a screen pass 41 yards on the game's second play and finishing that drive with a 2-yard TD run. But Baker Mayfield throws an interception into double coverage on the Browns' next snap and Green Bay answers back with the 443rd TD pass of Aaron Rodgers' career, breaking Brett Favre's franchise record. Mayfield would add two more first-half interceptions and both of those lead to Rodgers TD passess too, as Green Bay takes a 21-12 halftime lead for all you Rush fans out there. Cleveland gets back to within 2 late when Anthony Schwartz takes advantage of a blown assignment. Mayfield gets the Browns to midfield on their final drive but overthrows Donovan Peoples-Jones for his 4th and final pick of the day, as Cleveland moves to the brink of playoff elimination. Though if they win out, they could still win the AFC North, because 2021.
IND 22 – ARZ 16
The Cardinals give the Colts the best kind of Christmas gifts, with kicker Matt Prater leaving 7 points on the board across three missed kicks, and a horrible snap by Max Garcia resulting in the rarely-seen Intentional Grounding safety. Despite all of those gifts Arizona grabs the lead back early in the 3rd quarter on Kyler Murray's perfectly placed pass to Antoine Wesley. But the Colts control play from there, eventually claiming a two-score lead on this brilliant cross-body throw by Carson Wentz. And now the Colts, who started 0-3, only need a win against the Raiders or Jaguars to clinch their third playoff berth in Frank Reich's four years in Indy.
PHI 34 – NYG 10
The injury-riddled Giants, having watched Mike Glennon put up an atrocious 13-24/99 yard/3 Interception game last week, hand the car keys over to second-year QB Jake Fromm. Fromm proceeds to make those numbers look good by comparison, gaining just 25 yards on 17 attempts, including this wounded duck interception to start the second half. Just as they had on Tuesday night against Washington, the Eagles struggle to find their footing even against a practice squad caliber QB and can only muster a tie at halftime. But unlike the Washington game, the Eagles completely outclass the Giants in the 2nd half, scoring on each of their first four possessions and adding an exclamation point on this Alex Singleton pick-six. 
LAR 30 – MIN 23
Matthew Stafford has a rare off game, throwing for just 197 yards with three picks, the first and third of which come deep in his own territory and lead directly to Minnesota's first 10 points. But Cooper Kupp still manages to grab 10 passes for 109 yards because he's apparently superhuman, and Sony Michel makes up for the remaining shortfall in the Rams' passing game with his fourth straight strong showing (27 carries/131 yards/1 TD) to help the Rams jump out to a 13-3 halftime lead. Moments after Minnesota closes that gap to 3 thanks to Stafford's last pick, Brandon Powell catches a punt in traffic and takes it back 61 yards and the Rams never look back as they leave Minnesota with sole possession of the NFC West lead for the first time this season.  
BUF 33 – NE 21
The Bills get sweet revenge for their 14-10 MNF loss earlier this month, and retake the AFC East lead in the process, with just the Falcons and Jets now standing between them and their second straight division crown. In the absence of Emmanuel Sanders and Cole Beasley (who is, in fact, waiting 10 days,) unheralded fifth-year receiver Isaiah McKenzie shatters his previous career highs with 11 catches for 125 yards including the Bills' first TD of the day. As in their first matchup, the Patriots go run-heavy early, including a 10/3 run-pass split on their second drive of the game, culminating in Damien Harris's first of three TDs on the day. But unlike that first matchup, Josh Allen brings his absolute A game, going 30-47 for 314 yards and 3 TDs and scrambling for another 64 yards on the ground. Nursing a 5-point lead midway through the 4th quarter, Allen makes multiple spectacular plays including a gutsy 4th down run and a pair of backhand flips (all nicely captured in this 90-second clip) to put the game away. 
TB 32 – CAR 6
Ke'Shawn Vaughn rips off a big early run in Leonard Fournette's absence to give the Bucs an early lead. It's another rough day for the Camback, as Sam Darnold gains more yards (63) on his first pass in seven weeks than Cam does across all 13 of his attempts (61) prior to being benched. That 63-yard pass leads to a field goal which cuts Tampa's lead to 10-6 midway through the 2nd quarter, but that would be the end of the Panthers' scoring. The depleted Bucs extend the lead to 19-6 at the half and go on cruise control from there, wrapping up the NFC South with a 32-6 victory. 
NYJ 26 – JAX 21
For the second straight season, the Jets secure an uplifting screw up their draft prospects with a late-season win. Last year's second prize, Zach Wilson, gives the Jets an early lead by escaping a near-sack and then surviving some of the worst tackling you'll ever see at the NFL level. Trevor Lawrence answers with a 14-play TD drive of his own, though he gets very lucky on that 14th play. That Jags lead evaporates instantly, as Braxton Berrios returns the ensuing kickoff 103 yards for a TD. The Jets eventually extend their lead to 8 on yet another nice TD catch by a lineman but allow consecutive long drives from there until Javelin Guidry comes up with this diving 4th down stop to end the Jags' comeback effort.
ATL 20 – DET 16
The Falcons continue on their quest to have the worst point differential of any playoff team in history, improving to 7-8 and staying alive in the playoff race in the process despite having been outscored 400-278 on the season. Tim Boyle is mediocre at best in Jared Goff's absence, but he gets a little help from punter Jack Fox (whose throwing form looks better than several of the third-stringers we saw this week) and does enough to keep Detroit within a single score all game long, even briefly taking the lead on this Amon-Ra St. Brown TD. Matt Ryan hits his other tight end early in the 4th quarter to tie Eli Manning for 9th on the NFL's all-time passing TD list and give the home team a 20-13 lead. A Riley Patterson field goal and the Falcons' customary late-game fumble give Detroit some real hope for their first winning streak of the season, but a few plays later Tim Boyle hits Falcons' linebacker Foye Oluokon squarely in the chest with a goal line pass, and Atlanta escapes with yet another close win. 
HOU 41 – LAC 29
The Chargers put up enough points despite Austin Ekeler and Mike Williams both being late scratches due to Covid protocol. In fact,  Justin Jackson does an excellent Ekeler impersonation, contributing 162 total yards and a pair of TDs on just 19 touches. But as has been the case all year, the Chargers just can't stop the run. 31-year-old Rex Burkhead, who hadn't rushed for more than 60 yards since the 2018 opener (against the Texans, ironically) puts up 149 yards and his own pair of TDs- first diving for the pilon to cap off the Texans' opening drive, and then extending the Texans' lead early in the 4th quarter, much to the delight of Simone Biles. The Chargers climb back to within 4, but the Texans win this one going away thanks to this Nico Collins TD and a pick-six to wrap up a 24-point 4th quarter.
CIN 41 – BAL 21
For the second time this season, the Bengals just annihilate the Ravens, this time beating up on Baltimore's B team. Emergency starter Josh Johnson does as much as Baltimore could have asked, throwing for 304 yards and a pair of TDs. But the Ravens still lose the air battle by a wide margin, thanks to Joe Burrow throwing for 525 yards, the 4th highest total in NFL history (which would have been even higher had this play counted.) Tee Higgins (12 catches/194 yards/2 TDs) shatters his career high in all of those categories, and also in making a mockery of double coverage. Jamarr Chase and Tyler Boyd combine for a similar line (10 catches/210 yards/1 TD flip) as the Bengals win this one in a romp and now just need to come up with one more win to clinch their first division title since 2015. 
CHI 25 – SEA 24
A classic snow game, albeit between two exceedingly mediocre teams. D.K. Metcalf gets behind Chicago's secondary early for a 41-yard TD. David Montgomery answers with a 1-yard TD run and snow angel.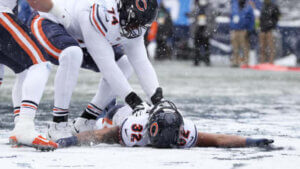 But Rashaad Penny answers back with his own short TD run, part of a 17-carry, 135-yard day. Nick Foles, the third-string QB most teams would kill for right now, keeps the Bears in the game with a pair of 3rd quarter scoring drives and hits former Seahawk Jimmy Graham on a jump ball to tie things up with 63 seconds left… or so we thought, until Matt Nagy keeps the offense on the field and is handsomely rewarded when Damiere Byrd is left unguarded on the two-point conversion to give the Bears just their second win since mid-October.
KC 36 – PIT 10
The league's hottest team stays that way, even without Travis Kelce. Clyde Edwards-Helaire sets the tone early by bouncing off a pair of Steeler defenders to open the scoring en route to a 23-0 halftime lead. Diontae Johnson literally drops the ball on the Steelers' first possession of the second half, and some more awful Pittsburgh tackling results in Byron Pringle's second touchdown of the game. The Chiefs, who started the season 3-4, are down to a magic number of 2 to clinch the AFC's top seed. 
LV 17 – DEN 13
The Raiders, who looked dead to the world after getting blown out 48-9 in Kansas City two weeks ago, stay alive with their second straight tight win. Josh Jacobs (27 carries for 129 yards) has his best game of the season by far in helping Vegas to a huge edge in both total yardage and Time of Possession. Vegas gets sloppy at the end of the first half- first Jacobs pulls a Diontae Johnson leading to a 55-yard Brandon McManus field goal and then Derek Carr doesn't quite put enough air under this screen pass and pays for it when Bradley Chubb makes a spectacular full-extension interception leading to a JaVonte Williams TD which gives Denver a 13-7 halftime lead. But those would be the last Bronco points of the day. Vegas takes the lead for good on a Peyton Barber TD. Vic Fangio yells at Brandon McManus for pulling a second 55-yard field goal attempt, and the Raiders hang on for the 17-13 win. 
DAL 56 – WAS 14
The Cowboys punt on their first possession, but Trevon Diggs gets Dallas the ball back on the very next play with his 11th interception of the season, the most since fellow Cowboy Everson Walls snagged 11 back in 1981. The Cowboys then proceed to score touchdowns on each of their next five possessions, mixing in a DeMarcus Lawrence pick-six along the way for a 42-7 halftime lead. Washington puts up a little fight, but it's only with each other.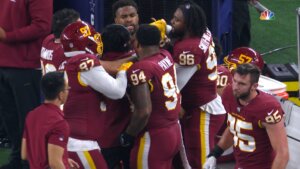 The lead eventually balloons all the way to 49 on a blocked punt TD and a Cooper Rush TD pass before Washington finally scores again but of course it's way too little, way too late.
MIA 20 – NO 3
4th string Saints RB Ian Book is overmatched in every conceivable way. The Dolphin defense literally wins this game by itself, scoring on Book's second pass of the night, sacking Book 8 times, and yielding only 164 total yards. Jaylen Waddle pours a little salt on the wound by passing injured Saint Michael Thomas for 2nd on the all-time rookie reception list with his 93rd catch of the year; Waddle now trails only Anquan Boldin (101) for the all-time record.  Waddle later gets to, well, waddle, after scoring on a nifty misdirection play to give Miami an insurmountable 17-3 lead. And yes, despite a 1-7 start, the Dolphins would be in the playoffs if they started today.