Four undefeated teams lose. Three all-defeated teams win. We may be headed towards a Hail Murray rematch in Super Bowl LVI. And yes, Brady and Belichick finally collide, but the world continues to spin on its axis. On to all the Week 4 action:
CIN 24 – JAX 21
The Jags hold their first 4th quarter lead since the middle of the 2020 season, but Joe Burrow ties it up with this perfect clutch throw and then leads an 83-yard drive to win the game. Brutal first half for the Bengals, but their second-half possessions went TD-TD-TD-FG. And since we made fun of their stripy pants in week 1, it's only fair to point out that those bright orange jerseys looked awesome.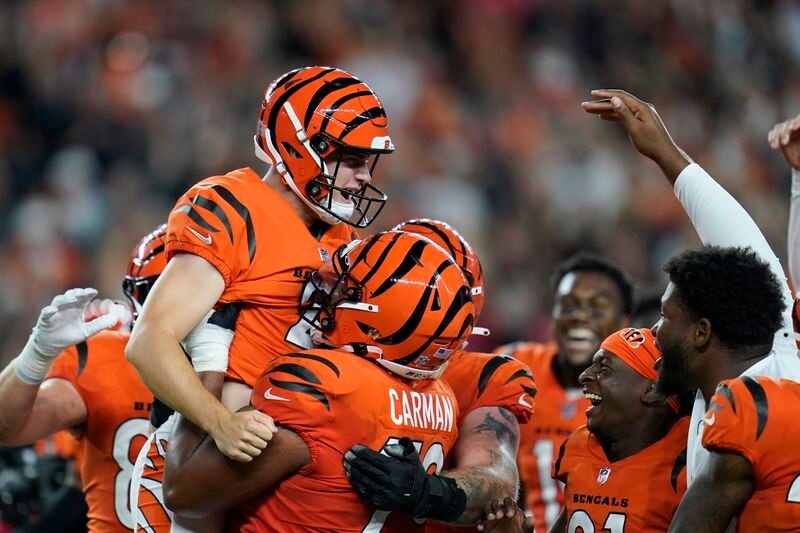 NYJ 27 – TEN 24 (OT)
Yes, this really happened. Maybe the mechanics were right (but probably not). Derrick Henry continues his record-setting pace (35 touches/117 yards/1 TD) but the depleted Titans receiving core only averages six yards per pass attempt, which lets Josh Wilson and the Jets hang around long enough to grab the lead on this bomb to former Titan Corey Davis. The Jets blow that lead at the end of regulation because of course they do, but pull it together with an FG and a stop(ish) in OT to get off the schneid.  
KC 42 – PHI 30
Chiefs give up 30+ points for the third straight week, but it doesn't matter because Mahomes throws for 5 TDs ranging from an underhand line drive to a casual back-foot 50-yard rainbow.
DAL 36 – CAR 28
Chuck favorite Chuba Hubbard puts up a respectable 4.4 yards per carry in CMC's absence and Sam Darnold runs it in twice to (brace yourself) take sole possession of the NFL rushing TD lead, but the Cowboys pull ahead on this perfectly executed out-and-up and never look back. 
NYG 27 – NO 21 (OT)
The Giants put on a horrible tackling clinic in the third quarter, but Daniel Jones (yes, Daniel Jones) puts up his first 400 yard game highlighted by a pair of long TDs and Saquon eventually gets the Giants into the win column. The Saints, who look amazing in odd weeks and mediocre in even weeks, immediately start advance scouting for their Week 6 game @BYE. 
CLE 14 – MIN 7
The Vikings offense starts the day with a 14-play, 80-yard TD drive and celebrates by taking the rest of the afternoon off. The Browns let the Vikings hang around in spite of that, but escape when Kirk Cousins throws this last-second pass to no one in particular. The Browns are quietly now second in the league in yards allowed despite getting torched by the Chiefs back in Week 1.
CHI 24 – DET 14
The Bears cruise to a 21-0 lead, and gain more yards on this play than they gained in their entire game against said Browns' defense. The Lions, for their part, continue to find innovative new ways to turn the ball over. 
BUF 40 – HOU 0
Sometimes you really can just let the stats do the talking. The Bills more or less quadruple the Texans in every category (Passing Yards, Rushing Yards, Takeaways) and even Mitch Trubisky gets in on the action. BTW- Can we all agree that Buffalo's 23-16 loss to Pittsburgh (and, while we're at it, Green Bay's 38-3 loss to New Orleans) in Week 1 never happened? The Bills haven't scored fewer than 35 points since, they're first in Yards Allowed and Points Allowed and they look like the best team in the NFL on both sides of the ball. 
IND 27 – MIA 17
The Dolphins exit the first quarter with a 3-0 lead and then do literally nothing in the second and third quarters (5 possessions, 14 plays, 5 total yards.) By the time they start moving the ball again it's already too late as the Colts go from being all-defeated to a game out of first in the AFC South. 
WAS 34 – ATL 30
Cordarrelle Patterson, who infamously threw out a WTF on Nickelodeon last year, has the game of his life against the WFT (12 touches/116 yards/3 TDs.) Granted it helps when no one guards you. But since the Falcons can't have nice things, it all falls apart late in the 4th quarter, where they've now been outscored 50-17. 
SEA 28 – SF 21
Tough day for the suddenly 2-2 49ers. First they lose their starting QB (though one could make a reasonable case that Lance is every bit as good) and then they guess the Seahawks' Tecmo Bowl play only to have Russell Wilson somehow turn that into a touchdown. The (awful) Seahawks defense keeps things interesting by ignoring Deebo Samuel but ultimately holds on. 
ARI 37 – LAR 20
Raise your hand if you penciled the Cards in as the last of the unbeatens (sees a smattering of hands)…and did that before Sunday afternoon (smattering disappears.) The unheralded Cards D comes up with a couple of early takeaways and their very heralded offense does the rest scoring on 8 of 9 possessions after that first interception.
GB 27 – PIT 17
Remember when the Packers got blown out by the Saints and the Steelers beat the Bills? Yeah, neither do we (since we agreed a few paragraphs ago that these games never happened.) Big Ben throws his 400th career TD pass but not much else goes right for the Steelers who quickly find themselves 2 games behind everyone else in their division (yes, even the Orange Crush.) Aaron Rodgers smokes his 420th to long-time connect Randall Cobb and the Pack cruise from there. 
BAL 23 – DEN 7
The Broncos step up in class after opening with the Giants/Jags/Jets. They do not enjoy their stay, particularly the last 3 seconds of it when the Ravens chose to extend their 100-yard rushing streak instead of taking a knee. And no, we've never heard the phrase 16 point touchdown before either. 
TB 19 – NE 17
Was there something important about this game? Had it on mute, but it sure looked like the camera was on Brady and Belichick a lot… oh right, those guys used to work together! Got it. Belichick holds the Bucs to a single offensive TD but falls agonizingly short when Nick Folk has the distance but not quite the accuracy from 56 yards. Of course even if Folk makes this Brady has 55 seconds and 2 timeouts, so the math is pretty clear that Belichick should have just gone for it on 4th & 3.
LAC 28 – LV 14 
Lightning storm! And the Bolts themselves show up in a big way racing out to a 21-0 halftime lead with more TD passes (3) than first downs allowed (1). The Raiders fare much better when the 2nd half starts on time (because the Chargers usually can't have nice things either) and they look poised to come all the way back after this bomb. But they only manage 17 yards on 14 plays (plus a missed FG) the rest of the way, and the Chargers regain control for good with this 4th down conversion.