Double punts, the tears of a Lion, missed field goals galore, and even another lightning delay. Here's what you may have missed during week 5. 
LAR 26 – SEA 17
Seahawks hatch devious plan to disorient Rams by blinding them with these jerseys. That works well for a half but it all falls apart in the 3rd quarter (despite this amazing-and-somehow-legal double punt) starting with this deep ball to Desean Jackson and ending with Russell Wilson's injury. Geno Smith fills in admirably putting up 10 points in the 4th quarter and gets the ball back just before the 2-minute warning with a chance to take the lead. But that chance evaporates in a single play when Tyler Lockett falls down on his crossing route. 
ATL 27 – NYJ 20
We continue our proud tradition of inflicting bad football teams on our friends across the pond. But at least they got to be there for Kyle Pitts' official arrival (9 catches/119 yards/1st career TD.) The Falcons outgain the Jets by a 2:1 margin, but somehow still give away most of their 17-point halftime lead before finally putting the game away with a late 75-yard TD drive starting with who else. 
MIN 19 – DET 17
The Lions still have a long way to go to match their worst season in franchise history, but this season may well end up being their most frustrating. The Lions almost came all the way back against the 49ers, led the Packers at halftime, and took identical 17-16 leads into the final seconds against both the Ravens and now the Vikings and only have tears to show for it. 
NO 33 – WAS 22
So remember when people thought Washington had a chance against Tampa in last year's playoffs because their defense was so good? Well that defense gave up 424 yards in Week 1 and has given up at least 29 points every week since. Of course it doesn't help when things like this happen. The Saints continue their Jekyll and Hyde routine, improving to 3-0 with a +61 point differential in odd weeks vs. 0-2 with a -25 point differential in even weeks.    
NE 25 – HOU 22
Davis Mills and the Texans rebound impressively from last week's 40-0 slaughter at the hands of the Bills and jump out to a 22-9 lead on this flea flicker until the momentum shifts when they inexplicably forget how punting works. After they finish laughing, the Pats score on each of their last 4 possessions to escape with a 3-point win.
TB 45 – MIA 17
The Bucs punt only once all game. The Dolphins enjoy a brief glimmer of hope after that lone punt, pulling to within one score on this impeccably designed play. But Tom Brady and company smash that glimmer with TDs on each of their next 3 possessions and end up with an NFL season-high 558 total yards. 
GB 25 – CIN 22 (OT)
Hey guys, the wind is blowing pretty strong left to right, so you may want to aim off-center to account for that….never mind, with enough tries I'm sure you guys will just figure it out on your own. Oh, and Evan- maybe don't celebrate until those dudes wearing the black and white shirts stick their hands up?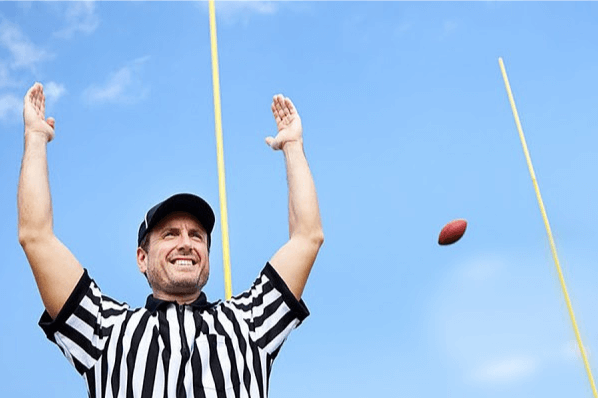 PIT 27 – DEN 19
The Broncos almost come all the way back after falling behind 24-6, but James Pierre blankets Courtland Sutton (7 catches/120 yards/1 TD) when it matters most to get the Steelers back in the win column for the first time since Week 1. The Broncos' 3-0 start suddenly feels like it was a very long time ago….
PHI 21 – CAR 18
…and so does the Panthers', who would very much like to have these 5 points back. The Eagles slowly chip away at the resulting 12-point deficit and finally break through on this punt block. Rough day for Sam Darnold who throws 3 picks, including this game-sealer, and loses his grip on the NFL's rushing TD lead to some guy named Henry…
TEN 37 – JAX 19
…Derrick Henry. Henry actually sees his total yards per game slip because the Jags do a good job of keying on him in the passing game (0 targets) but 29 rushes/130 yards/3 TDs is still a pretty solid day at the office. As for the 0-5 Jags, they actually outgain the Titans by 86 yards, but never quite recover from starting the game like this. 
LAC 47 – CLE 42
The Browns were already the only team in NFL history to have lost a game 47-42, and now they've done it twice. The teams combine for over 1,000 yards, and the Browns get themselves one last shot after brilliantly pulling Austin Ekeler into the endzone, but fall just short when none of their 3 targets get particularly close to Baker Mayfield's Hail Mary.
CHI 20 – LV 9
Getting back to falls from 3-0 grace, we have a new leader in that department. One day after an uninspiring home loss to the suddenly 3-2 Bears and yet another reminder that they probably shouldn't have traded Khalil Mack, Jon Gruden's 10-year $100 million coaching deal comes to an abrupt and unfortunately well-deserved end. 
ARI 17 – SF 10
Pop quiz time! There are no Cardinals in front of Trey Lance (#5) in this picture.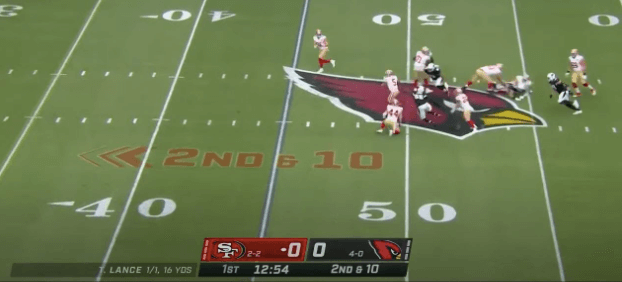 Should Trey Lance:
Run for 15 yards and then slide for a first down.

Flip the ball to Ross Dwelley (#82) for the same 15 yards and first down

Try to thread the needle for an 18 yard pass into quadruple coverage?
Yeah, you know where this is going. The Cards don't quite look right after their impressive win in LA, but do enough to remain the last of the unbeatens. 
DAL 44 – NYG 20
A pair of teams headed in opposite directions…continue to be headed in opposite directions. The Cowboys improve to 4-1 (and are the only team to be 5-0 against the spread) with some great play design along the way. The Giants, by contrast, lose their top player at 3 different skill positions including this self-inflicted wound by Daniel Jones. And their lone bright spot, rookie Kadarius Toney (10 catches/189 yards) gets ejected for throwing (and, thankfully for Giants fans, missing) a punch.
BUF 38 – KC 20
The 2020 AFC Championship rematch results in a similar score but very much in the opposite direction as the Bills literally leapfrog the Chiefs to stake their claim as the best team in the AFC. The Bills D, aided by 4 turnovers including a pick-six, hold the Chiefs to a season-low 20 points. The Chiefs D allows at least 29 points for the 5th straight week. 
BAL 31 – IND 25 (OT)
The Colts jump out to a 22-3 lead starting with this sweet screen pass but miss two opportunities to put the game away and allow Lamar Jackson to complete the comeback in OT.  Lamar now ranks 8th in NFL rushing yards, and has more total yards than more than half of the other 31 NFL teams.