The Bengals and Titans post matching 24-point statement victories. The Jets and Panthers make…different kinds of statements. Another Scorigami, a whole bunch of trick plays, and much more from Week 7…
CLE 17 – DEN 14
No Baker, no Chubb, no Hunt, no problem. D'Ernest Johnson, who once DMed all 8 teams in the AAF asking for a tryout, gets his first NFL start on national TV and casually puts up 168 yards on 24 touches, and seals the win on this 3rd & 7 run when everyone in the building knew he was getting the ball. 3-0 feels like an awfully long time ago in the Mile High City…
NYG 25 – CAR 3
…and in Charlotte too. One week after getting torched by the Rams for 28 points in the 2nd quarter, the Giants defense comes up with a big safety early in the 2nd quarter, and proceeds to pitch a shutout the rest of the way. The Panthers put up a grand total of 10 yards on their first 5 drives of the second half, which is less than Daniel Jones (yes, that Daniel Jones) gained on this one-handed catch. They might need this guy back after all.
NE 54 – NYJ 13
Hey remember that time the Jets beat the Titans? Well, the Jets certainly don't seem to. The Patriots score on 9 of 10 drives and Mac Jones posts the first 300 yard game of his young career despite sharing passing duties and not having to finish the game. Zach Wilson also doesn't finish the game, but for far less positive reasons, and now it's Flacco time once again at the Meadowlands after he literally defined mediocrity the first time around:

TEN 27 – KC 3
The Titans, still riding the high of edging out the Bills on Monday night, play an immaculate 27-0 half of football highlighted by a Derrick Henry TD pass (Yes, you read that right. There is nothing #22 can't do.) Henry clearly only had one read on that play, and he executed it perfectly, but had he looked to his left, he would have seen the Chiefs' lack of a defense in all its glory, as no one bothered to cover Ryan Tannehill after he went in motion.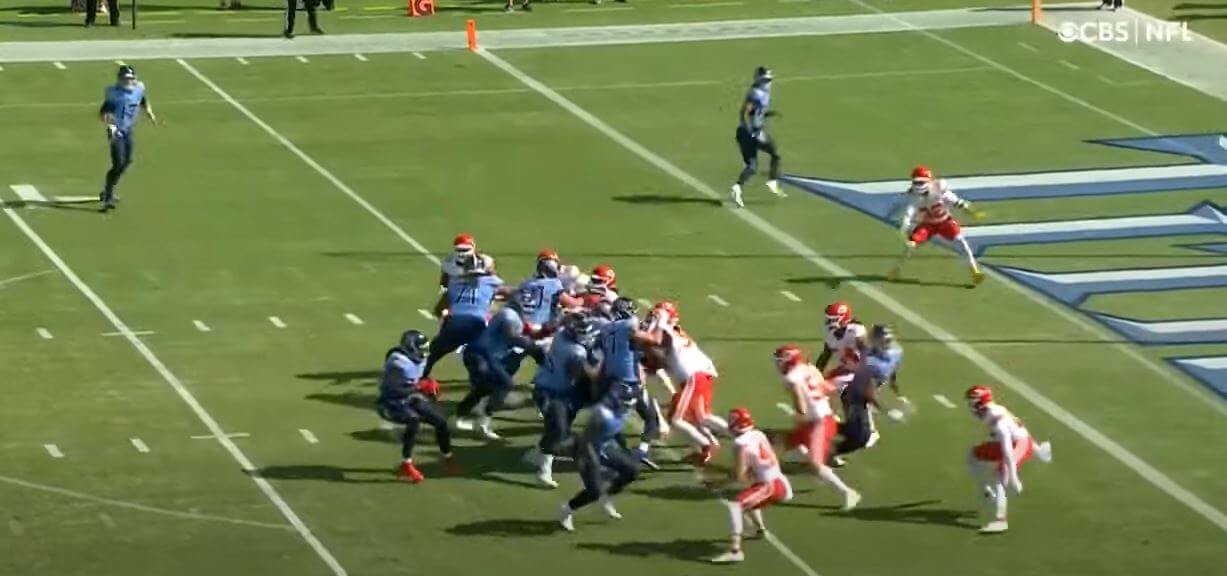 GB 24 – WAS 10
The Green Bay Packers (emphasis on the Green) get their 6th straight win ahead of a showdown with the Cardinals Thursday night. The Pack take their foot off the gas a bit after Rodgers' 3rd TD pass, but Washington turns 200+ yards over their next 3 drives into one premature Lambeau Leap and 0 points, and never gets closer than that 14-point margin.
ATL 30 – MIA 28
Kyle Pitts puts up his second straight monster game (7 catches/163 yards) as the Falcons lead most of the way. But a late Matt Ryan fumble leads to Tua's fourth TD (before you get too impressed, he also threw one of the worst interceptions you'll ever see) and the Dolphins are within one defensive stop of their first win since week 1. That stop never comes though, as it only takes two plays for Ryan and Pitts to get the Falcons into field goal range, and Younghoe Koo delivers the walkoff win, easily Atlanta's biggest sports moment of the weekend…wait, we're being told it might rank 2nd. 
CIN 41 – BAL 17
Well then. A week after Justin Herbert and the 4-1 Chargers got shut down 34-6 in Baltimore, Joe Burrow (28-38/416 yards/3 TDs,) Ja'Marr Chase (8 catches/201 yards/1 TD,) and the Bengals leave with a very different result and (brace yourself) first place in the AFC (as the only 5-2 team without a conference loss.) After a tight first half, the Bengals get the separation they need on this huge 3rd down play early in the second half and never look back. 
LAR 28 – DET 19
The Lions show up for their reunion with Matthew Stafford and comfortably cover the 16.5 point spread. They briefly look poised to do more than that with this sweet fake punt (their second of the game! Here's the first) and take a second-half lead, albeit by their least-favorite score (19–17.) But Stafford immediately answers with this 59-yard strike to Cooper Kupp (who continues to dominate both real and fantasy football) and the Lions never really threaten again. 
LV 33 – PHI 22
The Raiders seem to be officially past their Chargers/Bears hiccup as they retake first place in the AFC West thanks to the Chargers' bye. After ceding an opening drive TD the Raiders put up 30 points in a row starting with this tough catch in traffic by Foster Moreau, who filled in admirably for Darren Waller by catching all 6 targets on the afternoon. And any notion of an Eagles comeback falls apart on this amazing Maxx Crosby flying tackle and a hideous Jalen Hurts fumble (and failure to dive on the loose ball) on the next play. 
ARI 31 – HOU 5
Another week, another Cardinals win. And, after starting the season 0-for-5 we get a Scorigami for the second straight week. Houston, who like Miami hasn't won since Week 1, only manages 160 yards of offense, which, suffice it to say, is not enough to sustain their early 5-0 lead. New arrival Zach Ertz looks like he still has plenty of gas left in the tank, and the Cards cover the 20(!) point spread despite that early deficit. 
TB 38 – CHI 3
The Bears continue to be enigmatic. They have wins against the 5-2 Bengals and the 5-2 Raiders, but they also now have 4 losses, all by double digits. 44-year-old Tom Brady throws another 4 TDs, including the 600th of his career while 22-year-old Justin Fields turns the ball over 5 times (set to music here, for some reason) as the Bucs cruise to a 35-3 halftime lead and easily move to 6-1.
IND 30 – SF 18
Both teams combine for 6 turnovers (none worse than this duck) as yet another primetime game is impacted by a storm. In a microcosm of their season to date, the 49ers score on each of their first 3 possessions but go ice cold from there. Carson Wentz only throws for 150 yards, but the last 28 of them are enough to seal the deal when Michael Pittman Jr. just wants it more. 
NO 13 – SEA 10
Geno Smith's first pass of the night is this 84-yard strike to DK Metcalf. Naturally Geno doesn't target Metcalf again until the 4th quarter, and, in related news, the Seahawks offense only manages 126 yards for the rest of the night. Alvin Kamara gives the Saints a 10-7 halftime lead more or less by himself (8 catches, 113 yards, and this wide open TD) but Jameis only targets him twice in the second half and, relatedly, the Saints only gain 87 yards in the 2nd half. But those 87 yards prove to be enough when Geno's chance to be the hero goes: Incompletion, 8-yard sack, 10-yard sack, and possibly the weakest Hail Mary throw in NFL history.