The White Lotus, champagne, a most unfortunately named kicker, and much more from Week 8…
GB 24 – ARI 21
For the 49th straight season, the '72 Dolphins get their taste of champagne. Aaron Rodgers (22-37/184 yds/2 TDs/1 excellent meme) capably takes on the role of game manager in the absence of his top three deep threats. The Pack take a 24-14 lead on the first play of the 4th quarter and have a golden opportunity to close things out on their next drive but the Cards (barely) stay alive with a goal line stand, march all the way down to the Packers' 5, and look poised to keep that champagne on ice until A.J. Green picks a really bad time to forget that Kyler Murray had called a passing play. 
NYJ 34 – CIN 31
If we told you in advance that Joe Burrow was going to throw for 3 TDs, the AFC-leading Bengals (fresh off a 24-point win in Baltimore) would be +2 in Turnover differential, and the 1-5 Jets (fresh off a 41-point loss in Foxboro) were going to give Mike White (fresh off his fine work on The White Lotus; okay, not really) his first career start, you would have just started counting your CIN -10.5 winnings. But what you didn't see coming, because no one saw this coming, was (the real) Mike White throwing for over 400 yards. And the Jets' best passing play of the game didn't even count! The Bengals' lone turnover comes at the worst possible time. And two plays later the Jets take the lead for good when former Bengal Tyler Kroft gets so wide open that even the other Mike White would have been able to find him for the game-winning TD. 
TEN 34 – IND 31 (OT)
The suddenly hot Colts (just a comeback overtime loss away from a perfect 4-0 record since losing in Nashville in Week 3) get a chance to climb to within a game of the Titans and quickly jump out to an early 14-0 lead when Michael Pittman Jr. scores two TDs in less than a minute. The Colts  (or a broken foot!) holds Derrick Henry to a season-low 68 total yards but A.J. Brown runs wild to help the Titans catch up (10 catches/155 yards/1 TD.) And then Carson Wentz, who (somehow) hadn't thrown a pick since Week 2, throws the ball and game away twice- first on one of the worst "passes" you'll ever see late in regulation, and then trying to force one through double coverage in OT, as the Titans take a stranglehold on the AFC South. 
LAR 38 – HOU 22
A week after letting the Lions hang around well into the second half, the Rams cruise to a 38-0 lead (and a 455-73 total yardage advantage.) Cooper Kupp (7 catches/115 yards/1 TD) continues to keep Rams fans and fantasy owners happy, but the biggest story is the Texans coming all the way back to win the game cover the 16.5-point spread (Thankfully we locked in at 14.5, though even that number was at risk until Donte Deayon broke up this Ave Maria.) 
PIT 15 – CLE 10
Cleveland, despite getting Baker Mayfield and Nick Chubb back, struggles to move the ball all afternoon as the Steelers become just the second team to hold the Browns below 100 (or 150, for that matter) yards rushing. Pittsburgh takes the lead for good on this juggling 4th down catch by Pat Freiermuth, Jarvis Landry fumbles on the ensuing drive (and is extremely disappointed in himself) as the Browns suddenly find themselves in last place in the AFC North. 
PHI 44 – DET 6
Jalen Hurts only passes for 103 yards, but he also leads the Eagles with 71 of their 236(!) yards on the ground as Philly goes old-school with 46 rushes and just 16 pass attempts on the afternoon. Even Darius Slay scores against his former team while the best the home crowd can do is update a Halloween costume they were hoping they'd never have to wear again: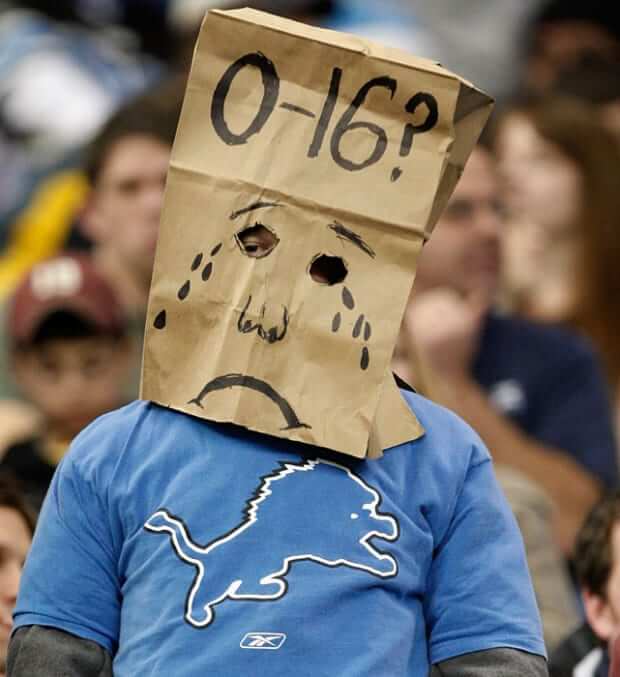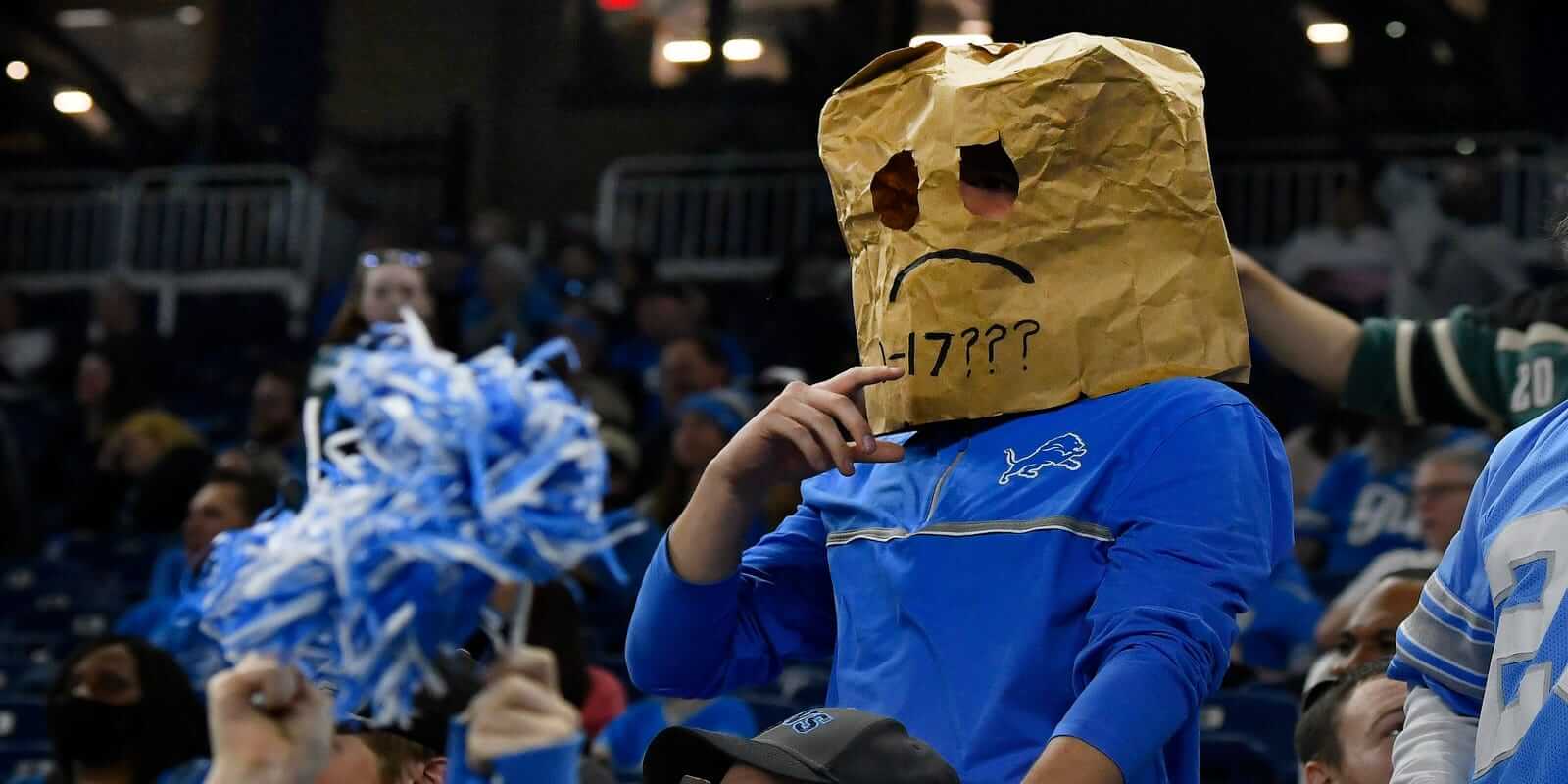 SF 33 – CHI 22
Speaking of running QBs, Justin Fields posts the first 100-yard rushing game of his young career, including this 22-yard TD scamper which covered a lot more ground than those 22 yards. But for the fourth straight week Fields fails to reach 200 yards in the air, and the Bears' offense leaves a bunch of points on the table by settling for three early field goals. The Bears' defense for their part gives Niners punter Mitch Wishnowsky the entire afternoon off. That, and a pair of long gains by Deebo Samuel prove to be too much for Fields and the Bears.
CAR 19 – ATL 13
Cordarrelle Patterson continues to enjoy one of the more unexpected seasons in recent memory, giving the Falcons a 10-3 lead on this catch-and-run, and finishing the game just 26 total yards shy of his season-high of 627, established all the way back in 2013. But the Falcons fail to score again until the game's closing seconds, as former Defensive Player of the Year Stephon Gimore blankets rookie sensation Kyle Pitts, ultimately sealing the win with this pick. And despite having just lost 4 straight games, the Panthers would still be in the playoffs if they started today.
BUF 26 – MIA 11
After annihilating the Dolphins 35-0 back in Week 2, the Bills take things a good bit slower in the rematch and the game remains 3-3 well into the 3rd quarter. But eventually Josh Allen starts doing Josh Allen things, leads the Bills to scores on each of their last 4 drives, and waves goodbye to the Dolphins until next season. 
NE 27 – SD 24
The Chargers, effectively playing a road game at home, take a slim 14-13 lead into the locker room at halftime, largely on the strength of this excellent (and patient) run by Justin Jackson. But after trading field goals, Jared Cook pulls an A.J. Green on this pivotal pick-six by former Charger Adrian Phillips, and the Patriots hold on to stay unbeaten on the road. 
SEA 31 – JAX 7
The 1-5 Jaguars show up just in time for the 2-5 Seahawks to get their season back on track. Geno Smith and company only put up 229 total yards, with Tyler Lockett accounting for a whopping 62% of those yards, highlighted by this pair of grabs, both of which set up short TDs. But that proves to be plenty to knock off the Jags and end their three game slide. And the best news for Seattle comes 24 hours later when Russell Wilson announces a major step forward in his recovery. 
DEN 17 – WFT 10
For the 8th straight week, Denver just copies whatever Carolina is doing. Only with more field goal blocks. Yup, plural. Chris Blewitt has now had 3 kicks blocked in 5 career field goal attempts. For perspective Justin Tucker has had 5 kicks blocked in 336 career field goal attempts. The Broncos struggle to move the ball most of the afternoon, but they do immediately capitalize on both of those blocks, and Melvin Gordon's second TD of the day is enough to secure the W, in what turned out to be Von Miller's last game in orange. 
NO 36 – TB 27
The Saints, undeterred by their even-week futility (7-26 @CAR in Week 2; 21-27 vs NYG in Week 4; and then a complete no-show in Week 6 @BYE) or the loss of starting QB Jameis Winston (apparently for the season) jump out to a 23-7 lead against the defending champs. The Bucs come all the way back when Cyril Grayson is left wide open behind the Saints' secondary, but the Saints answer with a long field goal drive and seal the win on a rare Tom Brady pick-six. 
DAL 20 – MIN 16
Another week, another nail-biter in Minnesota. Excluding their 30-17 win over the Seahawks, all six Viking games have come down to the last play from scrimmage. And for the fourth time in those six games the Vikings end up on the wrong side of the scoreboard. Cooper Rush fills in admirably for Dak Prescott, with a little help from Cedrick Wilson (both as a receiver and as a passer.) The Vikings pull ahead late on a drive aided by 3 personal fouls, but the Cowboys respond with a game-winning 75-yard TD drive culminating in this Cooper-Cooper connection.
KC 20 – NYG 17
The Chiefs still don't look anything like the two-time defending AFC champions they are, but do just enough to survive a frisky Giants team, holding their opponent under 27 points for just the second time this season. KC averts disaster when Trey Smith is in the right spot to recover Leonard Williams' strip sack ahead of the game-tying field goal, and then again when Oshane Ximines jumps offsides negating a Darnay Holmes interception early in what turned out to be the game-winning drive.