The Packers and Bucs look poised for an NFC Championship rematch, the Vikings and Falcons blow oodles of leads, and the Giants (barely) run out of time to catch the Lions for last place. All that and much more in our inaugural NFC Year in Review. (Click here for the AFC version.)
Atlanta Falcons (7-10, 3rd place NFC South)
MVP: Cordarrelle Patterson. By a lot.
High point: 1/2/2022 2:24PM EST- The Falcons take a 15-14 lead in Buffalo, keeping their dream alive of being the first playoff team to be outscored by over 100 points in a season.
Low point: Since there are too many blown leads to choose from, let's go with Matt Ryan killing Atlanta's comeback in that same game by giving himself up for no reason inches before the goal line and then earning a 15-yard taunting penalty for the ensuing celebration of what turned out to be a non-TD.
Worst 4-day stretch: Bouncing back from a 43-3 Week 10 loss in Dallas by… being shut out 25-0 against New England on TNF.
Lasting image: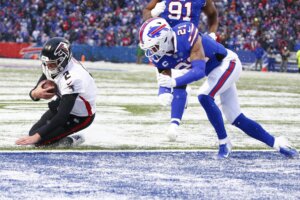 Arizona Cardinals (11-6, 2nd place NFC West)
MVP: DeAndre Hopkins- the Cards went 8-0 in the 8 full games he played and 3-6 the rest of the way.
High point: Blowing out the Rams 37-20 in LA in Week 4 to become the last unbeaten team standing.
Low point: Losing by 18 to the Lions, though blowing the NFC West by losing to the Seahawks in Week 18 is right up there.
Lasting image: This one, marking the exact turning point from the Cards' 7-0 start to their 4-6 finish.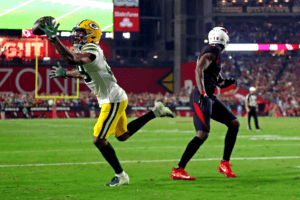 Carolina Panthers (5-12, 4th place NFC South)
MVP: D.J. Moore, for his solid Robbie Anderson impression. We're still not sure who Robbie Anderson was impersonating this year, but he should definitely try going back to being himself next year.
High point: Winning 34-10 in Arizona in Cam Newton's Week 10 return.
Low point: Winning zero more football games after that Arizona game.
Best name (until we all learned how it was actually pronounced): Chuba Hubbard.
Lasting image: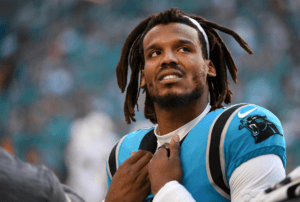 Chicago Bears (6-11, 3rd place NFC North)
MVP: Robert Quinn, for breaking Richard Dent's franchise sack record.
High point: Winning 20-9 in Vegas in Week 5 to move to 3-2.
Low point: Losing 8 of their next 9 games (and needing a last-second field goal on Thanksgiving for that lone win.)
Best fan base antagonization: Matt Nagy, for naming Andy Dalton as the Week 1 starter despite the fact that we have yet to find a Bears fan who wanted him to choose Dalton over rookie Justin Fields.
Lasting image: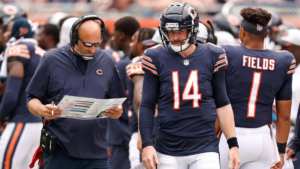 Dallas Cowboys (11-6, 1st place NFC North)
MVP (and Comeback Player of the Year): Dak Prescott
High point: Tie between 7 quarters spent beating the hell out of the Washington Football Team by a combined score of 83-22.
Low point: Falling behind 30-0 to a mediocre Broncos team.
Best Trevon Diggs interception: 11 choices here, but we'll go with this one since you never see picks on crossing routes like this.
Lasting image: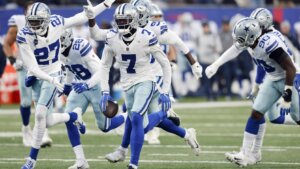 Detroit Lions (3-13-1, 4th place NFC North)
MVP: Amon-Ra St. Brown
High point: The walkoff Week 13 win against the Vikings to get off the schneid.
Low point: Giving up a 4th & 19 and a 66-yard field goal in the final minute of their Week 3 matchup with the Ravens to blow their first shot at a win. For quite a while, as it turned out.
Best name (after we learned how Chuba Hubbard was pronounced): Amon-Ra St. Brown.
Lasting image: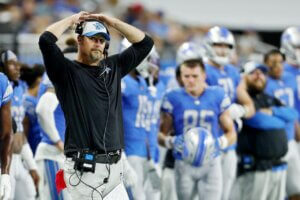 Green Bay Packers (13-4, 1st place NFC North)
MVP: Aaron Rodgers.
High point: Completing their impressive sweep of the NFC West with a 36-28 Week 12 win over the Rams.
Low point: Aaron Rodgers lying to everyone about his vaccination status and then missing a possible Super Bowl preview in Kansas City with Covid.
Lasting image/Best meme that took on a whole new meaning one Pat McAfee interview after the fact: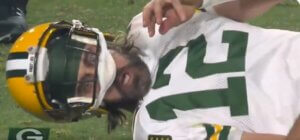 Los Angeles Rams (12-5, 1st place NFC West)
MVP: Cooper Kupp.
High point: Getting revenge on the Cardinals with a 30-23 Week 14 win in the desert.
Low point: A three-game midseason losing streak which included a nationally televised blowout loss against the (then) 3-5 49ers.
Best midseason pickup: Von Miller, though the OBJ thing worked out a lot better than most folks expected.
Lasting image: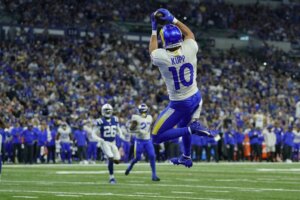 Minnesota Vikings (8-9, 2nd place NFC North)
MVP: Justin Jefferson.
High point: Recovering from yet another blown lead to beat the Packers 34-31 in Week 11.
Low point: Losing to the 0-10-1 Lions two weeks later by playing a soft zone for no apparent reason on the game's final play.
Best defeat snatched from the jaws of victory: You'd think it would be that Lions game, but we're gonna go with the game-ending field goal against the Cardinals, which also gave us our best radio call of the year.
Lasting image: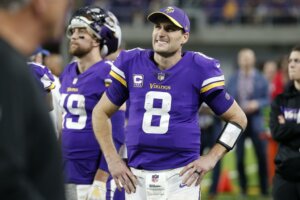 New Orleans Saints (9-8, 2nd place NFC South)
MVP: Alvin Kamara– The Saints were 5-2 when he got hurt against the Falcons and didn't win another game until he came back 5 weeks later. 
High point: It's easy to forget now, but the Saints had three terrific wins, blowing out the Packers 38-3 to start the season and then sweeping the Bucs.
Low point: Having to start Ian Book in a must-win MNF game. 
Worst welcome to the NFL moment: Ian Book pick-six on his second career pass.
Lasting image: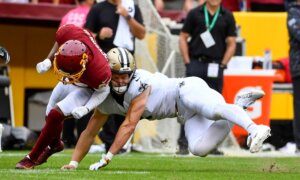 New York Giants (4-13, 4th place NFC East)
MVP: Daniel Jones, based entirely on VORP, because Mike Glennon and Jake Fromm were… not good.
High point: Appearing to pull out a surprisingly entertaining 29-27 TNF Week 2 win in Washington… until Dexter Lawrenece was called for an offsides which wasn't actually offsides.
Low point: The entire Glennon/Fromm run was an abomination, but running consecutive QB sneaks facing 2nd & 11 from their own 2 in Week 18 was a special kind of terrible.
Best Judgment: Firing Joe Judge.
Lasting image: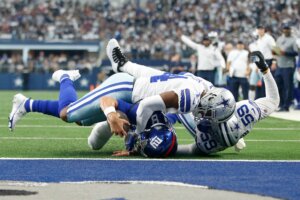 Philadelphia Eagles (9-8, 2nd place NFC East)
MVP: Jalen Hurts.
High Point: Averaging a whopping 214 rushing yards per game during the 7-game stretch which saw them go from 2-5 to 7-7.
Low Point: Going 0-6 against fellow playoff teams, and losing all 6 of those games by at least 6 points.
Worst case of the dropsies: Jalon Reagor.
Lasting image: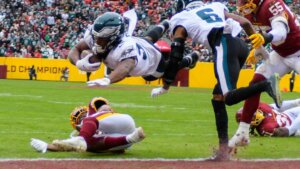 San Francisco 49ers (10-7, 3rd place NFC West)
MVP: Deebo Samuel.
High point: Coming back from both an early 17-point deficit and a last-minute 7-point deficit to win in LA this past Sunday and snag the NFC's last playoff spot in the process.
Low point: Losing to (then) 3-8 Seattle in Week 13.
Longest drive of the 21st century: 13:05 to open their Week 11 30-10 win in Jacksonville.
Lasting image: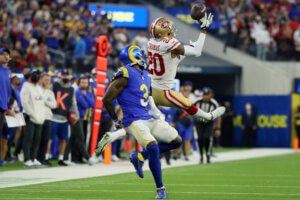 Seattle Seahawks (7-10, 4th place NFC West)
MVP: We're gonna go off the board here and give it to Rashaad Penny, who rewarded fantasy owners who made the late-season waiver wire plunge with 671 yards and 6 TDs over the season's last 5 weeks.
High point: Sending Pete Carroll and Russell Wilson out in style with a 51-29 thrashing of the Lions in Week 17.
Low point: Having Russell Wilson's much-anticipated Week 10 return result in a 17-0 shutout loss at Green Bay.
Best (and only) defensive two-point conversion of the year: This one.
Lasting image: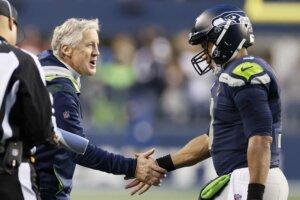 Tampa Bay Buccaneers (13-4, 1st place NFC South)
MVP: Tom Brady.
High point: Breshad Perriman's 58-yard TD to beat the Bills in OT in Week 14 after the Bucs had blown a 17-point 4th quarter lead
Low point: Under normal circumstances it'd be the 9-0 loss to the Saints, but these are not normal circumstances.
Most anticipated moment of the season which basically lived up to the hype: Brady vs. Belichick.
Lasting Image: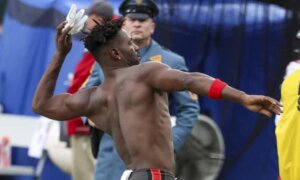 Washington Football Team (7-10, 3rd place NFC East)
MVP: Taylor Heinicke
High point: Coming out of their bye week on fire with four straight wins, starting with a convincing 29-19 Week 10 win over the Bucs.
Low point: Lots of great choices here, from their stadium falling apart to briefly employing a kicker named Blewitt, but we'll go with being humiliated 56-14 on National TV against the Cowboys.
Best beer brand to run a promotion based on Taylor Heinicke's name: Bud Light, apparently.
Lasting image: