Hello Chuckleheads! Our second full month of Chuckle is in the books and our MVP is… you!! We saw a 60% increase in Chuckle gameplay from July to August. We can't thank you enough and please keep up the great work in spreading the word about our little game!
On to the August highlights:
Games with the highest Winning Percentage:
Matt Ryan (97.7%)

Frank Gore (97.5%)

Detroit Pistons (97.2%)
What are "three things which were last good in 2016?"
Alright, that's a little harsh to Matt Ryan and more than a little generous to the Pistons, but for what it's worth, 2016 was:
Ryan's MVP year (this is your official reminder that Matt Ryan won an MVP.)

The last time Frank Gore ran for 1,000 yards.

The last time the Pistons finished above .500. 
Coincidence? Well yes, probably.
Fun fact (unless you're from Detroit)- The Pistons, Lions, Tigers, and Red Wings all finished above .500 in 2016. Those four franchises have collectively had just one winning season since (The 2017 Lions went 9-7 but missed the playoffs.)
Favorite facts:
Bob Gibson started 9 career World Series games and pitched 81 of the 82 innings of those games. They don't make them like they used to.

Ryan Howard (B.J. Novak's character on "The Office") was named after Ryan Howard (the 2006 NL MVP.)
Roger Staubach coined the phrase "Hail Mary" (well, the football version of it, anyway.)
Lowest Winning Percentage:
Khris Middleton (73.8%)

Chris Sale (74.3%)

Bob Cousy (80.5%)
Who are "three players who were drafted by different franchises than you think?" (Yes, apparently we're still doing this Jeopardy thing.)
Middleton was drafted by the Pistons but traded to the Bucks after his rookie year. They… probably shouldn't have done that.
Sale was drafted by the Rockies out of high school but never signed and was later drafted by the White Sox.
And as we covered in the Cousy game, Red Auerbach passed over Cousy in his first draft with the Celtics, only to end up with him anyway after the Chicago Stags dispersal draft. They eventually made up over cigars (okay, they actually made up way before this, but I needed an excuse to share this picture.)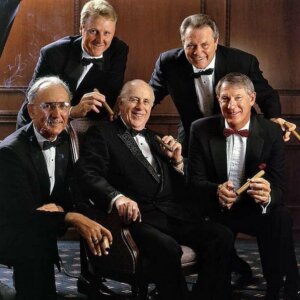 Most Helpful Clues (by Clue Number)
1. We have won 11 championships, second most in our league's history
26% of you came up with the St. Louis Cardinals right off the bat.
2. We tied a franchise record with 56 wins this past season
40% of you knew that the Memphis Grizzlies haven't had a ton of success, but the future is looking up.
3. I retired with exactly 16,000 Rushing Yards and 100 TDs
74% of you got Frank Gore from this. It's still crazy that Gore is the 3rd leading rusher in NFL history, right?
4. I once used the word "practice" 14 times in a single press conference answer
72% of you knew The Answer.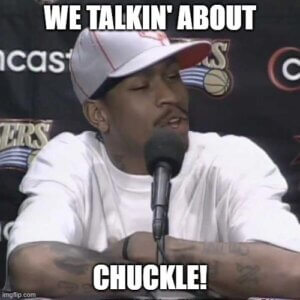 5. My first and last name are both last names of retired Atlanta Braves (#44 & #10, respectively)
Was glad to see 60% of you get Aaron Jones from one of my favorite clues of the month.
6. My first two sons are named Cooper and Peyton
80% of you have watched a football game with the sound on at some point over the last 23 years and got Archie Manning just in the nick of time.
Easiest Games (by Average Guess Count)
Allen Iverson (2.85)

Matt Ryan (3.10)
Who are "guys who won both their only MVP and their only conference title in the same season?"
Funniest Wrong Answers
1. (Zach Ertz, Question 2: I won my only championship in 2017)
Answer: Charles Barkley
We always love it when a fellow Chuck gets mentioned, and it would have been an amazing story if Charles Barkley had won his only NBA Finals ring at (checks notes) 54 years old. 
2. (Zach Ertz, Question 6: My full name both starts and ends with a "Z") 
Answer: Mike Geran
The Z's are silent. And hidden.
3. (Andrew Luck, Question 6: 2018 also ended up being my last season. I surprised many by retiring during the 2019 preseason while I was still just 29 years old)
Answer: Thurl Bailey
Now there's a guy I hadn't thought about in a long time. Partly because Thurl Bailey was twice Andrew Luck's age during the 2019 NFL Preseason. And partly because his biggest sports moment happened nearly 40 years ago (he's the guy holding the ball at the start of this clip.)
Thanks to all for playing along, and looking forward to many more Chuckles in September! And of course if you haven't played today's game yet, there's still time to get your Chuckle on!