Happy New Year all! December was our favorite month of Chuckle to date, highlighted by our inaugural 12 Days of Chuckle contest. Congrats to Michelle E. of Waterville, ME for winning the Grand Prize and to Kerry W. of Anchorage, AK for winning the random drawing for the Participation Trophy by playing Chuckle from the Chuck app all 12 days. 
December games with the highest Winning Percentage:
1. Robert Griffin III (99.1%)
2. New York Yankees (99%)
3. Chicago Bears (99%)
4. Charles Barkley (98.7%)
Yeah, I know, we usually only list the top 3 here, but we're always willing to make room for a fellow Chuck. BTW- Those five fellow future Hall-Of-Famers Sir Charles got to play with over his first two seasons were: Moses Malone, Dr. J, Mo Cheeks, Bobby Jones, and Bob McAdoo. But even with all of those greats that version of the 76ers was never quite as good as the Bird-McHale-Parish Celtics, which is part of the reason the Round Mound of Rebound never got a ring (see also: Jordan, Michael.)
Favorite facts:
1. Hack Wilson (now mostly known for the single-season RBI record) and Jose Altuve are the only players 5'6" or shorter to hit 30 HR in a season.
2. Only four players have averaged more than 36 PPG for a full season- Wilt Chamberlain (five times!), Michael Jordan, Elgin Baylor, and James Harden.
3. Dan Fouts broke his own Passing Yards Per Game record during the strike-shortened 1982 season… and still lost 35-33 in MVP voting to this guy (also pictured: his holder, Joe Theismann, who finished fourth.)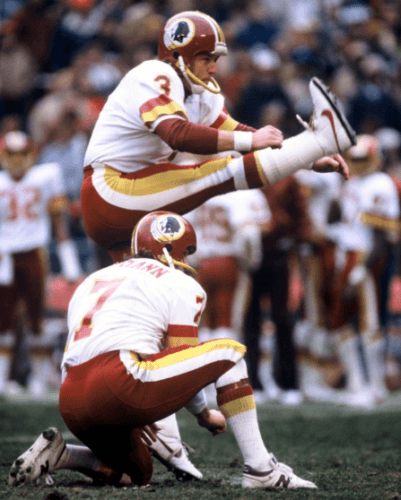 Lowest Winning Percentage:
1. Bob Pettit (69.5%)
2. Chris Godwin (78.8%)
3. Mookie Blaylock (79.5%)
The bonus Twitter clue ("Ten" was named for this guy) made a huge difference for the Mookie Blaylock game, which also featured one of my favorite cross-sport clues so far:
"My given first name is Daron, but I am primarily known by a nickname I share with a pair of World Series champions. Their given first names are William (1986 WS) and Markus (2018 & 2020 WS), respectively"
Those World Series champs are, of course, much better known as Mookie Wilson and Mookie Betts. 
And speaking of those Twitter bonus clues, here's all 12 of them in song form:
12 years in Dallas (Michael Irvin)
11 for the Captain (Mark Messier)
"Ten" was named for this guy (Mookie Blaylock)
9 Straight Division Titles (Jorge Posada)
8 Straight Games with Homers (Ken Griffey Jr.)
7 Passing Titles (Drew Brees)
6 NBA Rings (Scottie Pippen)
5 Stanley Cups (Edmonton Oilers)
4 No-Hitters (Sandy Koufax)
3 Scoring Titles (James Harden)
2 World Series (Jose Altuve)
And a 1-time MVP (Charles Barkley)
Catchy, right?
Most Helpful Clues (by Clue Number)
1. I went to Baylor
Sure, Baylor doesn't quite have the alumni roster that some of its Big 12 counterparts have, but there are enough good-to-great names on there (looking at you, Mike Singletary) that I didn't think this clue would be that easy. But apparently I was wrong, since a whopping 66% of you got RG3 for the full 60 points.
2. On July 4, 1939, we became the first team in our league to retire a jersey number
62% of you were among the luckiest Chuckleheads on the face of the earth. That jersey, of course, belonged to Lou Gehrig, the first of 23 players and managers to have their number retired by the New York Yankees.
3. I led the AL in Hits every year from 2014-2017
57% of you got Jose Altuve here.
4. We lost our only Super Bowl appearance when Mike Jones tackled Kevin Dyson on the 1-yard line on the game's final play
We all like a gimme par putt, right? Well much like a typical gimme, 83% of you actually made this by naming the Tennessee Titans.
5. Our all-time Passing Yardage leader is Jay Cutler
88% of you knew that the Chicago Bears QBs have… not been great.
6. On September 14, 1990 my dad and I hit back-to-back Home Runs
92% of you were familiar with Ken Griffey Sr. and Ken Griffey Jr. producing one of the best moments in father-son sports history.
Until next month, Chuckle on!