Hello Chuckleheads!! As a thank-you to our earliest adopters we wanted to share some highlights from our first full month of Chuckle!
Games with the highest winning percentage:
Toronto Raptors (99.1%)

Orlando Magic (98.2%)

Yao Ming (97.7%)
So… apparently you guys know a lot about Tracy McGrady:

Favorite facts we bet most people didn't know (because we didn't ourselves until we wrote these games!)
Kirby Puckett

is the only player (min 500 AB) to have both a 0 HR and a 30+ HR season (and he did both in a span of three seasons!)

Brook Lopez

is the Nets' all-time leading scorer (by exactly four points over Buck Williams)

Art Monk

and Thelonious Monk are cousins
Games with the lowest winning percentage:
Willis Reed (65.7%)

Walter Johnson (66.1%)

Carlton Fisk (75.3%)
We were really hoping someone would tell us they saw Walter Johnson pitch, but to be fair it's been a while now: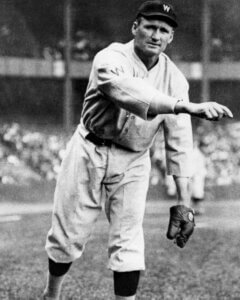 Most helpful clues (by clue number)
1. I went to Virginia Tech
A whopping 69% of you got Michael Vick from just those five words. Wow.
2. (We have never won a championship) Though six seasons ago we came within a minute of changing that.
44% of you correctly guessed the Atlanta Falcons
3. We drafted both Deion Sanders and Brett Favre
71% of the folks who didn't come up with the Falcons on Clue #2 found their way one question later
4. My sister Cheryl (1995) and I (2012) have both been inducted into the Basketball Hall of Fame
66% of you saved par by going with Reggie Miller here.
BTW- The par reference is because some folks have started engaging in some friendly competition around Chuckle where each game is a Par 4. Suffice it to say we enthusiastically endorse this.
5. Our team nickname was inspired by the movie, "Jurassic Park"
Oh yeah, that's how so many of you got the Raptors!
87% sunk this one for bogey (see, the golf thing is fun, right?)
6. I share a last name with Batman
70% of you have thought about the Caped Crusader a lot more recently than the 2000s Colts, but luckily we had your back and helped you remember Reggie Wayne.
Easiest games (by average guess count)
Michael Vick (1.84)

Calvin Johnson (2.45)

Atlanta Falcons (2.88)
So you guys are really into the NFC and not that into success. Got it. 
Funniest wrong answers
1. (Lou Brock, Question 5: I broke Ty Cobb's career steals record in 1977; 14 years later Rickey Henderson broke my record.) 
Answer: Ed "The Flash" Mancini 
Sure, this person doesn't exist, but Tom Gordon's been retired for a while now, so maybe it's time for another Flash?
2. (Yao Ming, Question 1: I was drafted first overall in 2002)
Answer: Zion Williamson 
Zion's age during 2002 NBA Draft: 23… months.
3. (Roger Maris, Question 2: I won my only two MVP awards for my first two seasons in New York)
Answer: Zao Ming
There's a lot to love about this one. Yao Ming never had a top 10 MVP finish and never played in New York. Willis Reed is the only Knick ever to win an MVP. And the "Z" is a particularly nice touch.
Thanks to all for playing Chuckle. We're pumped for what's ahead and we'd love it if you could help us spread the word! Share your Chuckle results wherever you like. Text them to your friends. Tweet them. Post them to Facebook. Print them up and mail them if that's your thing. And of course if you haven't played today's game yet, there's still time to get your Chuckle on!