Wishing all of you Chuckleheads the happiest of holiday seasons! Here are some of our favorite moments from November, starting with what else but Turkey Day:
Games with the highest Winning Percentage:
1. John Madden (99.8%)
2. Vladimir Guerrero (99.6%)
3. Aaron Judge (99.2%)
We thought it would be a fitting tribute to honor John Madden on Thanksgiving, and you wholeheartedly agreed. One of the coolest aspects of Madden's larger-than-life presence is that he's a household name across several generations for three interrelated but ultimately discrete contributions to our enjoyment of sports.
Today most people know Madden for his namesake video game. Anyone over the age of 30 would remember Madden and Pat Summerall as the NFL's best broadcast team of the late 20th century. But not nearly as many people remember just how great a coach John Madden was. The consensus Mount Rushmore of NFL Coaches would presumably include some combination of Vince Lombardi, Don Shula, Bill Belichick, George Halas, and Paul Brown, right? 
Well John Madden coached the Oakland Raiders for a full decade and retired with a better winning percentage than every single one of those guys. 
Thanks for all the memories, Coach! We hope you're enjoying a turducken on that big Madden Cruiser in the sky. 
Favorite facts:
1. The Washington Commanders once called Fenway Park home. Yes, that Fenway Park.
2. Keenan Allen quietly caught more passes over the last five full seasons than anyone else in the NFL.
3. Joe Carter wasn't the MVP of the 1993 World Series, even after doing this.
Lowest Winning Percentage:
1. Tracy McGrady (74.9%)
2. Paul Molitor (76.0%)
3. Anthony Rizzo (76.5%)
… And the reason Carter wasn't the MVP despite being one of just two people to ever end a World Series with a Home Run (bonus trivia- name the other!) is that Paul Molitor slugged a ridiculous .917 in that same series (and also technically scored the series-winning run.)
As an aside that Blue Jays offense was loaded. Tony Fernandez drove in a series-high nine runs. Devon White had a series-high six extra-base hits. Robby Alomar hit .480! And I haven't even mentioned the guy who led the AL in BA/OBP/OPS or the greatest leadoff hitter of all time. No wonder they were all on the winning side of what is still the highest scoring game in World Series history. 
Most Helpful Clues (by Clue Number)
1. I am a Hall-of-Famer despite never having played a professional game
23% of you very quickly sussed out our Thanksgiving Day tribute to John Madden 
2. I was drafted by teams in two different sports
It's funny, we were debating whether to include "in the first round" in this clue, but decided that would be too easy. In hindsight we made the right call, except the clue still ended up being too easy, as 48% of you ended up eagling (cardinaling?) Kyler Murray.
3. I have also hit more home runs than anyone else in MLB since (winning Rookie of the Year at age 25)
I guess Aaron Judge was near the front of a lot of your minds (has he been in the news lately?) as 66% of you named him here.
4. I have been suspended for stepping on other players multiple times
Ah, nothing like a gimme par putt. Honestly my biggest concern was whether you'd be able to spell Ndamukong Suh, but it looks like our new picklist helped with that as 72% of you identified the stomper in question. 
5. I coached UCLA to a record 10 NCAA Tournament titles
Speaking of the Mount Rushmore of coaching, 81% of you came up with the Wizard of Westwood, John Wooden.
6. I share a first name with the current president of Russia
Another guy who's been in the news a lot lately. But a strong showing nonetheless as 97% of you got Vladimir Guerrero here.
Funniest Wrong Answers
1. John Wooden, Question 4: I held the same job from 1948-1975
Answer: Drew Brees
Perhaps if the job in question was "future fake lightning strike survivor." 
2. Marcus Smart, Question 5: I wear number 36 for the Celtics
Answer: Dominique Wilkins
This one is funny because we're betting that you don't remember that Dominique Wilkins actually played a full season for the Celtics. He even had to give up his signature number 21 since Bill Sharman's #21 was already hanging from the rafters at Boston Garden. But he didn't wear #36 then and he certainly isn't wearing it now.
3. Tracy McGrady, Question 2: I am one of just 13 players in NBA history to score 17,000 points before turning 30
Answer: Lonzo Ball
Lonzo has been a decent enough player when healthy. But at his current average of 600 points per season it would take him another 23 seasons to reach 17,000 points. So in the immortal words of Jordan Peele: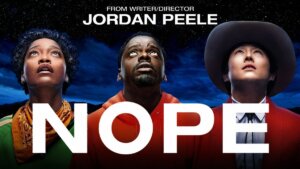 Enjoy all of your holiday Chuckles and see you in 2023!