Hello Chuckleheads! September was our third straight record month. Thanks to all for helping spread the word, and make sure to Tweet your results this week to be automatically entered into our first ever Chuckle giveaway! 
Onto the September highlights:
Games with the highest Winning Percentage:
1. Jackie Robinson (99.5%)
2. Green Bay Packers (99.4%)
3. Las Vegas Raiders (98.8%)
Always nice to see #42 on top of a list, right?
And right behind one of MLB's toughest outs of the 1950s- only Ted Williams, Mickey Mantle, Stan Musial, and Ferris Fain (yeah, I had never heard of him either but apparently he's 15th all-time in OBP) had higher OBPs during the 50's- are the NFL's toughest outs of the 1960s and 1970s, respectively. For perspective the 60's Packers lost 37 games and the 70's Raiders lost 38 games; The Cleveland Browns lost 39 games between November 2015 and December 2017.
Favorite facts:
1. Two different guys who won their only MVP in 1973 were in "The Naked Gun"(!!!) And even more specifically both were involved in falls from the upper deck: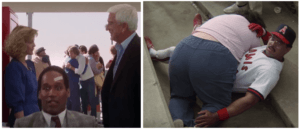 2. Wes Welker is the Patriots' all-time Receptions leader even though he was only in New England for six seasons.
3. Kirk Cousins is the only QB to have thrown 25+ TD passes in each of the last seven seasons. 
Lowest Winning Percentage:
1. Wes Welker (66.6%)
2. Gary Sheffield (79.3%)
3. Rasheed Wallace (80.3%)
The three toughest games this month were all guys who were extremely well-traveled by All-Star standards- collectively they played for 19(!) different franchises. And their only two collective rings- Sheffield with the '97 Marlins and Wallace with the '04 Pistons- are among the most obscure titles of the last 25 years, so that didn't help either. All great players though. 
Most Helpful Clues (by Clue Number)
1. We lost our first four championship appearances before finally breaking through during the 1990s
24% of you got the Denver Broncos (and the vast majority of you probably thought about John Elway doing this in the process.)
2. My number 92 has been retired by two different franchises.
A whopping 65.5% of you got Reggie White from this one. In the words of Ron Burgundy, I'm not even mad, that's amazing! I figured some of you would derive the sport from the number and then the position from the sport but still, 65.5% is a lot. Well done, Chuckleheads (and also Baxter for eating the whole wheel of cheese.)
3. We are the only NFL franchise for whom two different QBs have exceeded 50,000 Passing Yards
57.8% of you realized that those two QBs had to be Favre and Rodgers and got the Green Bay Packers from there. Only 12 guys in NFL history have thrown for that many yards. 
4. I share a first name with one of The Chipmunks
81.7% correctly chose Alvin Kamara over the considerably lesser known Alvin Pearman (the only other Alvin, Simon, or Theodore ever to play Running Back in the NFL.) 
5. Chadwick Boseman portrayed me in 42
93.8% of the folks who didn't come up with Jackie Robinson earlier figured it out here.
6. My number 33 is hanging from the rafters at Madison Square Garden
73.6% saved double bogey by eventually recognizing the Knicks' all-time leading scorer (by nearly 10k points,) Patrick Ewing 
Easiest Games (by Average Guess Count)
1. Las Vegas Raiders (2.74)
2. Reggie White (2.80)
3. Bill Walton (2.98)
We've already commented a bit on the Raiders and the Minister of Defense, so let's devote this space to one of the all-time college greats and NBA what-ifs, Bill Walton. Walton averaged 20.3 Points (on 65% shooting!), 15.7 Rebounds, and 5.5 Assists at UCLA en route to an 83-4 record, all of which is (checks math) really fucking good. Persistent foot injuries prevented him from ever quite being the same guy in the NBA, but he still won an MVP, a Finals MVP, and attended an (unofficial) NBA record 850 Grateful Dead shows, so that's not nothing.   
Funniest Wrong Answers
1. (Phil Jackson, Question 1: I played my entire 12-season career in New York and New Jersey)
Answer: Randy Moss
(Shakes head)
2. (Kirk Cousins, Question 1: I went to Michigan St.) 
Answer: Ike Hilliard
I like this one for the mix of Hilliard's relative obscurity and the fact that he didn't actually go to Michigan St. (or any other Big 10 school for that matter.)
3. (Ray Rice, Question 4: My full name is exactly seven letters long)
Answer: This guy! 
I was today years old when I learned that Bob Ross served in the military (and apparently vowed to always speak in a soft voice after leaving.) So thanks Bob for your service and I'll wrap this one up with some of your happy little (and seasonally appropriate) trees: