We had so much fun with The 12 Days of Chuckle that we decided to run that concept back for the start of the 2023 MLB Season. But with one big twist- this time you're competing on behalf of your favorite MLB team!
If you toggle to the Games section of Chuck on or after Opening Day you'll see there's a new page for Team Standings which looks like this: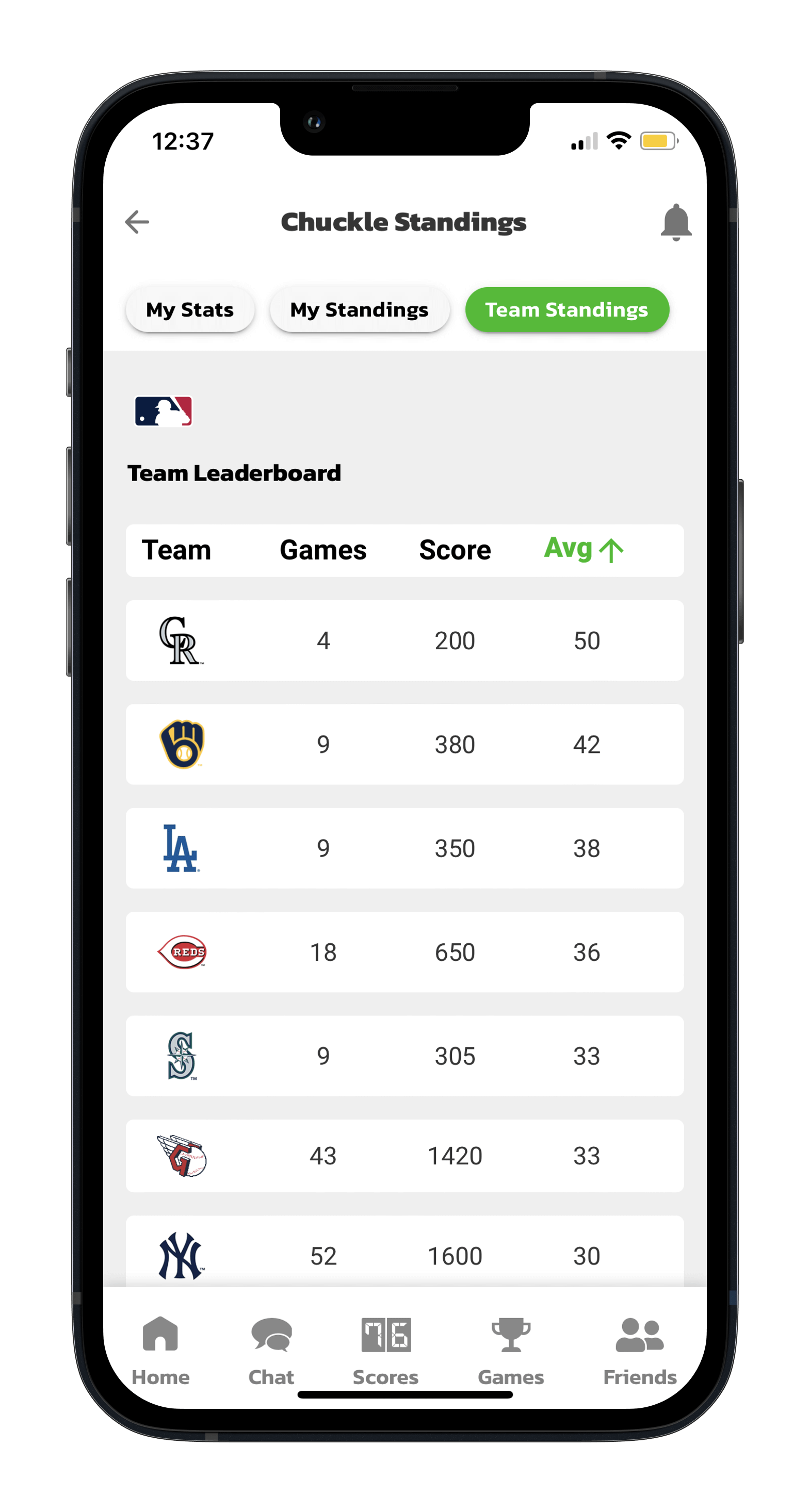 Every Chuckle game you play from 3/30-4/7 (9 games = 9 innings, get it?) through the app (or a linked account) will count towards your favorite team's stats in these standings. The fans who contributed the most total points to the team with the best average score will receive $100 Fanatics gift cards to grab some new gear for the new season. The number of fans who win $100 gift cards will depend on the winning team's position in the Total Score rankings. If the winning team finishes among the top five in Total Score, five fans will win gift cards, If the winning team finished among the second five (i.e. 6-10) in Total Score, four fans will win gift cards, etc.
But there's one more catch- If the winning team finishes among the bottom five in Total Score, that team will be eliminated from the Contest and we'll start over with the team with the second best average score (etc.) until we come up with an official winner.
How to Play:
Download the Chuck App, choose your favorite MLB team(s) and play every day through the Games page. Team Standings will be updated daily and we'll be making plenty of Social noise about this too so make sure to follow us and spread the word to the rest of your crew to boost your team's chances (and, by extension, your chances,) of winning!)
Additional Terms:
You must be a U.S. resident age 18 or older to participate. Contest winners must respond to claim prize within 72 hours of outreach; Failing that new winners will be randomly chosen until all prizes are claimed. Chuck Inc. employees are not eligible to participate. By participating in this contest you agree to be notified of additional contests and product updates. 
Questions?