🎶On the first day of Chuckle, the Chuck guys got for me
a one-time MVP 🎶
Catchy, right? Well, we've got 11 more where that came from!
Introducing our inaugural Chuckle competition, The 12 Days of Chuckle. Play all 12 days from 12/14/22-12/25/22 and you could win up to $250 in prizes! 
How to Play:
Download the Chuck App and play every day through our brand new Games page — where you'll be able to see your Chuckle points accumulate in real time: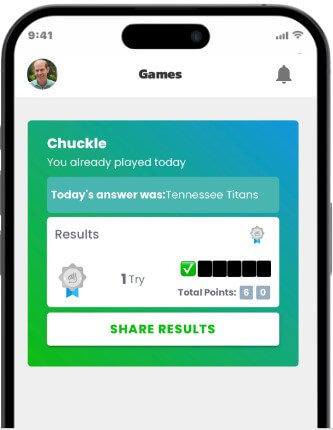 OR
Use the "Share" button on the Chuckle website and post your results on Twitter.
Bonus Hints:
In the Holiday spirit we'll be giving all of our social media followers a bonus social-only hint for each of the 12 Days of Chuckle. If you don't already follow us on social media here are some handy links to change that:
Prizes:
The Grand Prize, a $200 Fanatics Gift Card, will go to the person who racks up the most total points across all 12 days. Any ties will be settled by random drawing.  
We are also offering a Participation Trophy Prize in the form of a $50 Fanatics Gift Card. Everyone who plays all 12 days through the Chuck App (and only through the Chuck App) will be entered into a random drawing for this prize. 
Additional Terms:
You must be a U.S. resident age 18 or older to participate. If participating via Twitter only the first share per Twitter handle per day will be considered. Contest winners must respond to claim prize within 48 hours of outreach; Failing that new winners will be randomly chosen until all prizes are claimed. Chuck Inc. employees are not eligible to participate. By participating in this contest you agree to be notified of additional contests and product updates. 
Questions?