January 27th, 1991
Super Bowl XXV: New York Giants vs. Buffalo Bills
Game Location: Tampa, Florida
My Location: My friend Andrew's den
My Age: 14
Giants-Bills was a classic contrast in styles. The Bills no-huddle offense had put up a total of 95 points in their two playoff games. The Giants didn't get into the end zone even once in the NFC Championship against the two-time defending champion 49ers, but the last great Lawrence Taylor-led defense helped the Giants hang around for, as the New York Times so eloquently put it, "A Fake, a Fumble, and a Final Wish." 
The Giants and Bills had actually played late in the regular season when both teams were 11-2. The Giants won the style battle, but lost the war 17-13 and lost starting QB (and Super Bowl XXI MVP) Phil Simms for the season in the process. While Jeff Hostetler was among the better backup QBs in the league, the Bills were understandably installed as 7-point favorites.
Super Bowl XXV took place just 10 days after Operation Desert Storm had begun in the Persian Gulf — the first significant U.S. troop deployment of my lifetime. We were all feeling extremely patriotic, and Whitney Houston channeled that into the best National Anthem performance I've ever seen.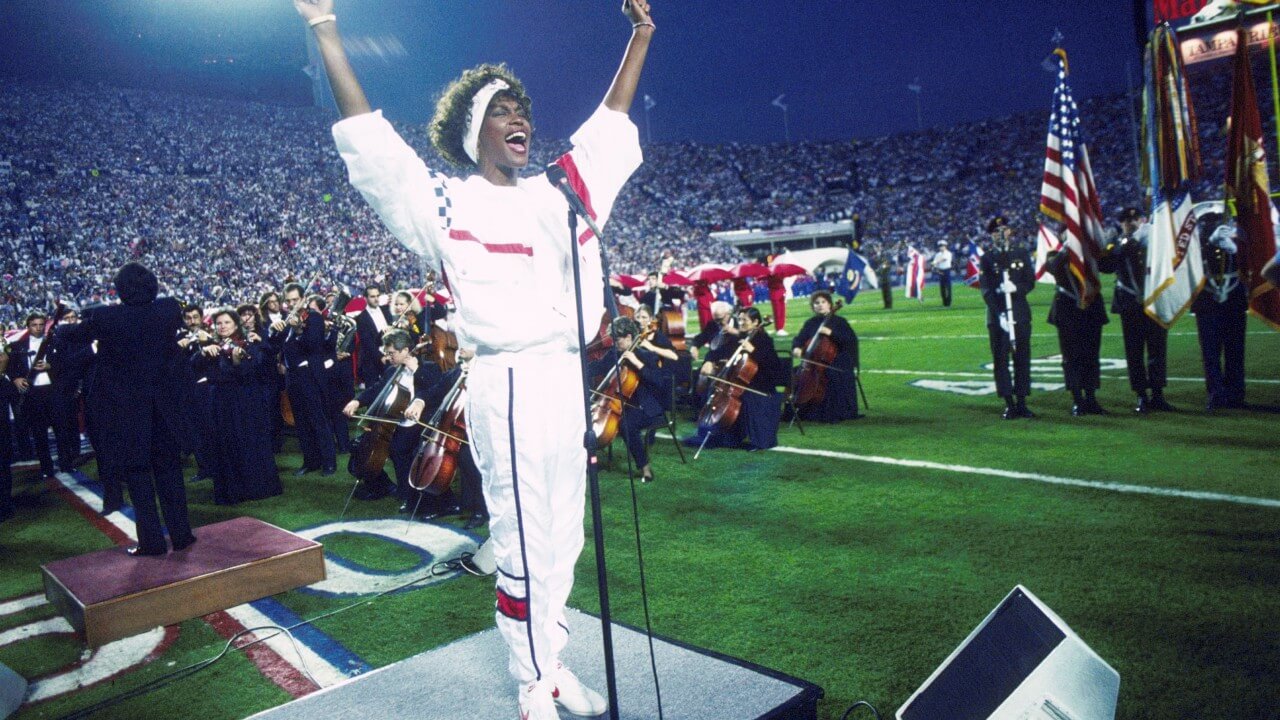 The game itself was every bit as good. Super Bowl XXV was the first turnover-free Super Bowl (Rams-Titans nine years later is the only other one to date.) The Giants mitigated a potential disaster when an off-balance Hostetler somehow managed to hold off the strip part of Bruce Smith's strip sack attempt. I've never been so happy to have given up (only) a safety. 
Down 12-10 at halftime, the Giants came up with an excellent strategy for slowing down the Bills' no-huddle offense: Just don't let them have the ball. The Giants opened the second half with what is still the most time-consuming touchdown drive in Super Bowl history (taking 9:29 off the clock) highlighted by this 3rd-and-13 conversion to keep the drive alive. They possessed the ball for nearly 24 minutes in the second half but were still clinging to a 1-point lead when the Bills' two-minute drill got going. The Giants defense bent a bit but didn't break, setting the stage for one of the most memorable moments in Super Bowl history. 
I was in 8th grade at the time, and I watched this game with several friends I'm still close with. When the Giants knelt in a circle on the sideline awaiting Norwood's kick, we did too. And when the kick sailed wide right, we exploded in celebration. It's probably the closest any of us have ever come to feeling like we were actually on a team ourselves. And it felt amazing.